We were inspired by Marlene Dietrich's Shanghai Lily to select a few items that channel Old Hollywood glamour touched by its fascination with the Orient.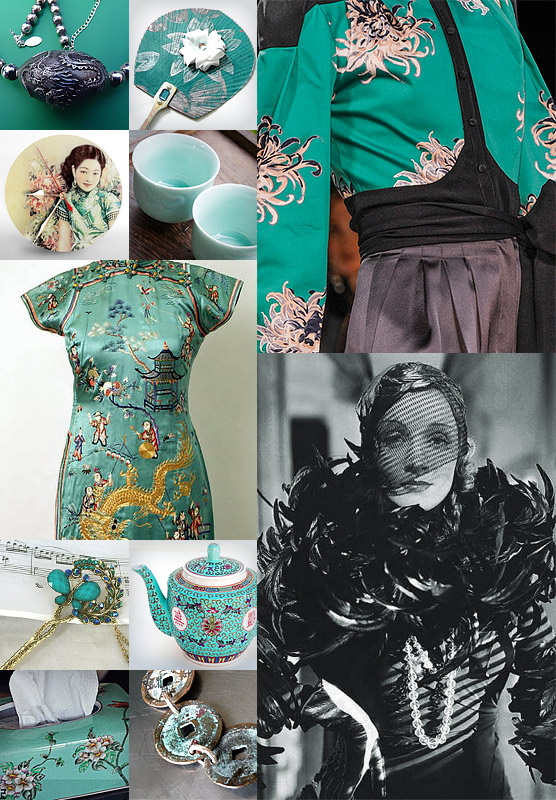 • The black feathers and veil framing Marlene Dietrich's face are the perfect visual complement to the undercurrent of deception in Josef von Sternberg's Shanghai Express. We watch for cracks in the stiff line readings and theatrical setting. Sternberg heightens the suspense with soft lighting and extravagant costumes that obscure the real faces of the characters.
• This Cheongsam, made during the same year as Shanghai Express, reflects the most popular fashion in China at the time – a fitted silhouette with bell sleeves, high collar, and traditional embroidery.
• In the Carolina Herrera Fall 2013 Collection, dahlia blooms mingled among satin wide-leg pants, tweeds, and fur trims.
• Jason's Necklace suspends a large dragon-covered bead from a string of sterling silver beads.
• Zen Bao's Fan has a blossom attached to its surface, painted with silver petals on a teal background.
• This Clock by China Town Addict has a 30s style girl covering its face.
• Jane Ng's Tea Cups have a pale green glow reminiscent of ancient Chinese celadon.
• This Hair Pin by uniquedkz has a butterfly and peacock feather made of blue stones.
• This Vintage Teapot by Encore Emporium has a rich decorative pattern of magenta magnolias against a turquoise background.
• Becky Cheung's Tissue Box is made of porcelain with an oriental floral pattern.
• Mona Lindvall's Bracelet strings together vintage Chinese coins with a speckled green patina.