India may be called a second Paradise for whosoever quits this garden, suffers from remorse.
– Kalim (1581-1651)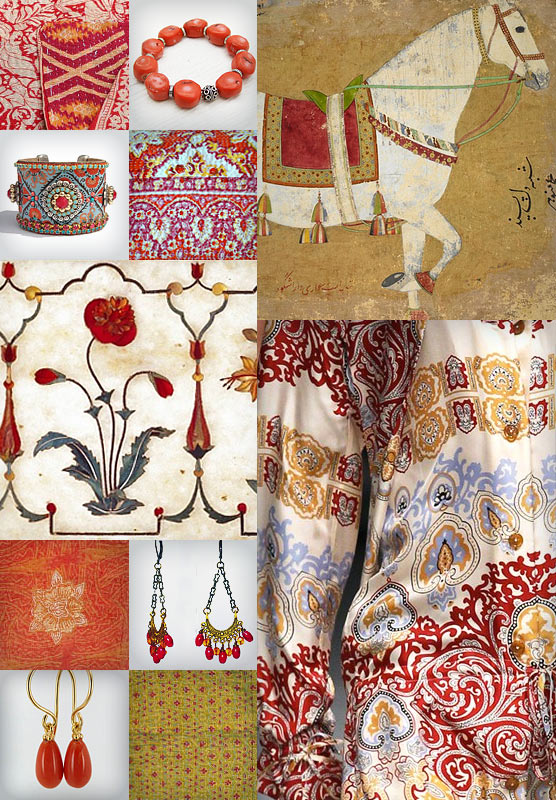 • Decorative arts and architecture from Mughal India – like this floral motif and imperial horse – was a visual dialogue between Islamic Iran, Hindu India, and Europe. The complex patterns of arabesques and floral motifs found their way into temples, private rooms, and calligraphy scrolls.
• The Vivienne Westwood Spring 2014 Menswear Collection paired intricate Indian-inspired prints with plain linen.
• This Red Kantha Quilt and Orange Kantha Quilt by Federal Exports are made from three layers of recycled sarees by artisans in Rajasthan.
• Jodi's Bracelet alternates pieces of coral with silver Bali beads.
• Karin van Rijn's Cuff is made of a coral and turquoise jacquard ribbon encrusted with crystals.
• Zaipur's Pillows are made from vintage cotton saris in vibrant orange and turquoise patterns.
• Brooke Melko's Earrings suspend pink riverstone beads and honey-colored Czech glass from ornate brass discs.
• Oceanus' Earrings are deep coral droplets attached to gold ear wires.
• Jaisalmer Handloom's Kantha Quilt is made by a small collective of artists in the Thar Desert.