Try always, the cardinal says, to learn what people wear under their clothes, for it's not just their skin.
– Hilary Mantel, Wolf Hall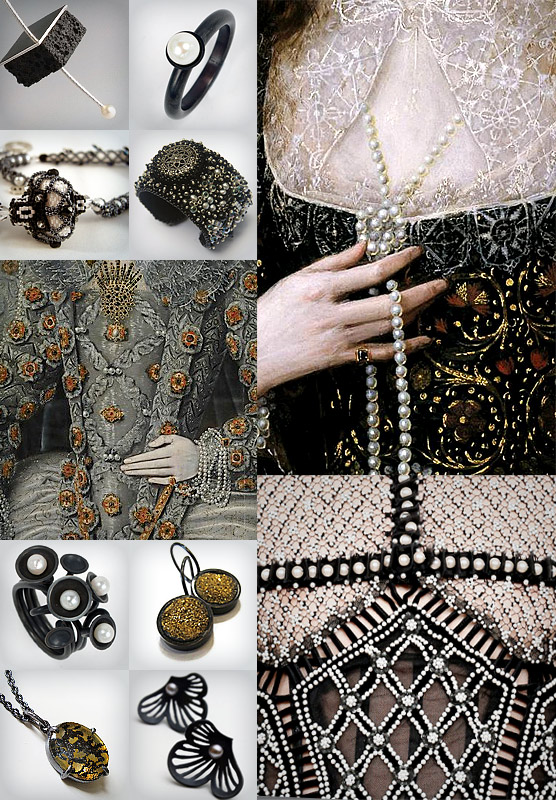 • Robert Peake's portrait of Lady Anne Pope depicts her fingers running through a string of pearls, emerging from a lace collar and extending over a jacket embroidered with carnations, roses, and strawberries. These fineries were so expensive that only the highest ranking courtiers could afford them. The pearls, cherries in the background, and loose hair were all symbols of virginity, as if the status and money were not attractive enough. If this portrait was meant as an advertisement of her virginity and wealth, it didn't work very well because she died unmarried.
• This Portrait of a Woman by an unknown British painter reflects the portraits of Elizabeth around 1600. The roses on the shoulder indicate the House of Tudor and the elaborate lengths of pearls leave no doubt that she had money to spare.
• The Alexander McQueen Fall 2013 Collection undressed the Virgin Queen a little bit, cleaned up her silhouette, and matched her love of extravagant jewelry. If she ever had lingerie, this would be it. Vests encrusted with pearls showing off bare shoulders, fishnets studded with pearls, and my favorite – black gloves that only cover the tips of fingers and end in a set of pearls.
• Aleksandra Vali's Necklace suspends a square of dark lava that resembles a rich chocolate cake.
• Jenny Gilbert's Ring creates a striking contrast between an oxidized sterling silver and a large freshwater pearl.
• Christine Heidema's Beaded Necklace was inspired by the spines of a Red Pencil Sea Urchin she saw on one of her dives in Hawaii.
• Jean Hutter's Black Magick Cuff surrounds a silver button with layers of pearls and beads in shades of black and silver.
• Jenny Gilbert's Ring elaborates on her previous piece with lines of oxidized that resemble twisting vines, accented with four pearls.
• Sheriberyl's Earrings are made of textured gold druzy quartz cabochons set in sterling silver bezel.
• Mimi Favre's Pendant shows off the natural blue-black design running through light cognac colored quartz.
• Dagmar's Earrings are a pair of stylized flower petals studded with grey pearls.