Oh, the possibilities of toilet paper. No, really, here is proof that you can be creative with the shape of the roll, the paper itself, and the holder.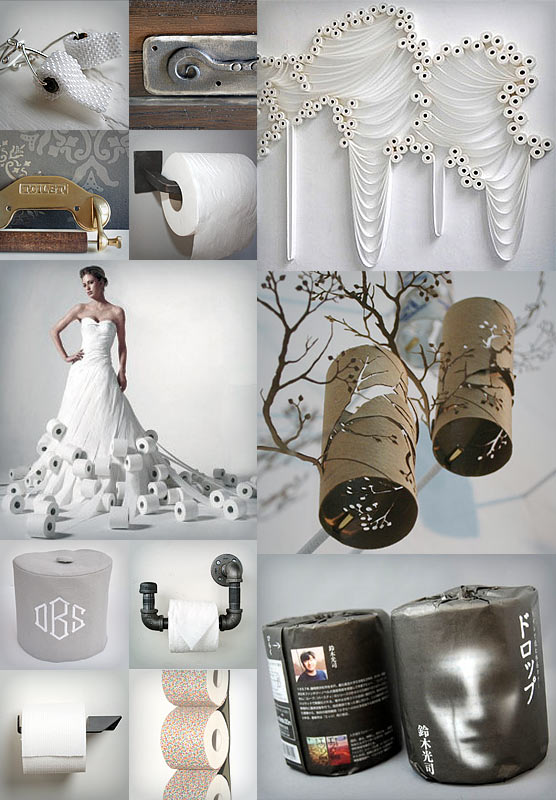 • Sakir Gokcebag's Trans Layer Series transforms ordinary objects like coat hangers and toilet paper into cloud-like wall installations. The rolls of toilet paper partially unwind to create cascading white layers that, from a distance, appear totally disconnected from their use in daily life.
• This ad for Cashmere Toilet Paper gives the impression that it's haute couture for your behind.
• Yuken Teruya's Toilet Paper Rolls create a forest of branches growing from cardboard trunks.
• While you're sitting on the toilet, why not read a horror novel to pass the time? Koji Suzuki's Drop is printed in its entirety on a toilet paper roll – entertaining and disposable.
• Licia's Earrings suspend tiny rolls of toiled paper made from white beads.
• This Toilet Paper Holder is made of iron hand-forged with scroll ends.
• Ruth Negara's Toilet Paper Holder is a vintage piece made from brass and wood.
• David Downing's Toilet Paper Holder is a classic variation made from hand-forged steel.
• Christy's Toilet Paper Cover will have the monogram of your choice stitched on light grey linen.
• Alana Harbord's Toilet Paper Holder is made of steel pipe section that provides a little slice of industrial design to your home.
• Matthew Bietz' Holy Roller is folded piece of laser cut stainless steel that can be used as a toilet paper holder or towel hook.
• Frau Kakau's Rollland stores three rolls of toilet paper with a floral cover.