In anticipation of warmer weather and cherry blossoms, here are a few muted reminders that spring is coming.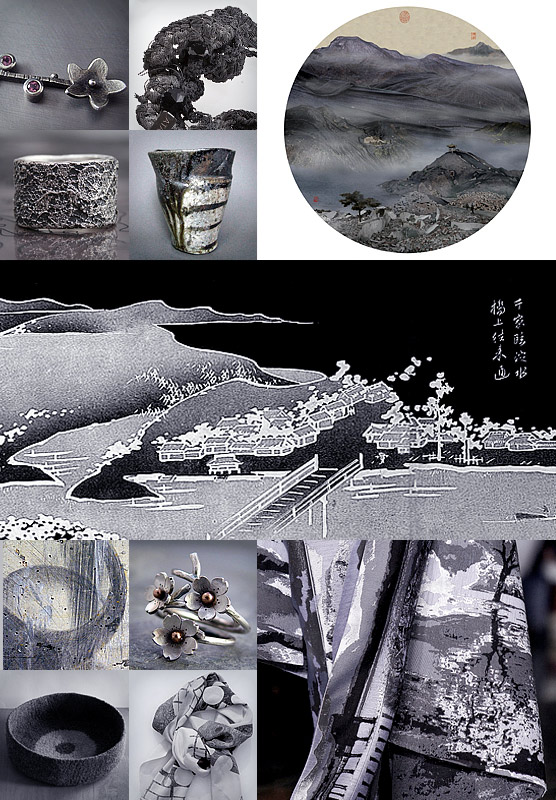 • Itō Jakuchū's Riverboat Journey captures one trip down the Yodo River in 1767. Jakuchū sketched the scene and his friend Daiten Kenjō wrote short poems about the spontaneity of the moment. For the final print, they sought to imitate the ink rubbing process of Chinese calligraphic prints. Daiten was a Zen monk who opened doors for Jakuchū, allowing him access to painting collections and introducing him to literati circles. Jakuchū is best known for his colorful bird and flower paintings, epitomizing all that was lush and prosperous during the Edo period.
• Yao Lu's Landscapes are digital manipulations of debris made to look like traditional Chinese paintings.
• The Mary Katrantzou Fall 2013 Collection applied depth to a grey-blue palette with patterns inspired by the mist and watery reflections of Steichen and Stieglitz' photographs.
• LivelyHood's Necklace suspends a silver cherry blossom branch with two pink tourmaline blooms.
• Atara's Necklace is a thick, textured web of rubber fibers accented with black gems.
• Veronica's Ring was made by casting a piece of vintage lace in sterling silver.
• Melanie Knox's Vessel has a rich surface of iron oxide stripes and waves of dripping redwood ash.
• Michel Misho's Rubber Flower is a photograph of tire marks and scuffs on asphalt, but it resembles the loose brushwork of Japanese and Chinese painting. It reminds me of Tawaraya Sotatsu's gold-flecked poem cards.
• Elan's Ring is a twisting silver branch with three cherry blossoms.
• Maria's Bowl is made of grey felted wool with a ring of lighter grey inside.
• Oropopo's Scarf has a print of the graphic layout of Chaco Canyon in New Mexico, echoing its past civilization.