Kurt Schwitters was one of the first artists to recycle found objects for his work. He saw that all art is a re-combination of old parts. We have selected artists who are continuing his legacy by creating unique, timeless watches.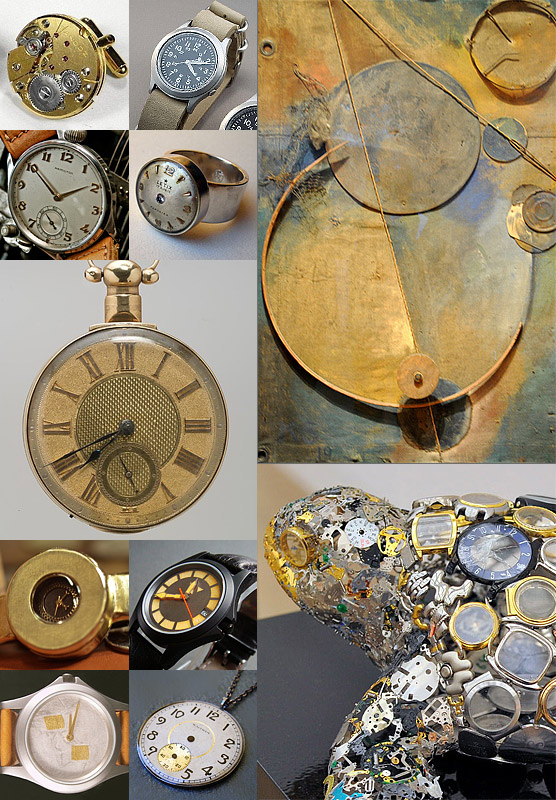 • Kurt Schwitters was a peculiar fellow – in the best way possible, of course. In my opinion he is the most under-appreciated artist of the last century, and one of the most important, too. He tried to join the Berlin Dada group, but his work was deemed not political enough. But Schwitters is more interesting and complex than any of the Dada artists who so narrowly focused on politics. He made what he called Merz – collages that incorporated objects from his everyday life. The idea was to materialize the inner workings of the Schwitters brain. Revolving reflects his love of machinery as an abstract and aesthetic concept. His most ambitious project was the Merzbau, a sculpture that would start small and gradually accumulate things that came into his life. It eventually took over the houses he lived in. He also wrote magnificent fairy tales. Take a moment to read The Flat and the Round Painter here to find out why painters paint on flat canvases. Just a taste: "he trembled and scrambled in the air, and he shivered and schwittered, like the air under him schwittered and shivered." I mean, how many artists can turn their name into a verb?
• Natsumi Honda's series Time to be Included materializes the myth of the tortoise and hare by making them out of tiny watch parts.
• This early nineteenth-century Watch has a dusty gold cover and looks like it belonged to an English gentleman. A Mr. Darcy, perhaps?
• These Steampunk Cufflinks by edmdesigns reveal the gears and parts of vintage gold and silver watches.
• Floris van Bergem's Watches are hand made in a sleek, military aviator style.
• This Watch by Vintage WatchWorks captures classic American craftsmanship of the early 1900s.
• Naomi Muirhead transforms watches into other kinds of jewelry – her Ring frames a vintage Letix watch face in sterling silver, and her Pendant suspends a 1920s Art Deco style watch face from a gunmetal chain.
• This Watch by Oldwatch Lee combines a brass case with a thin leather band.
• Scott Wilk's Watch has orange dial sections made of luminous resin that glows in the dark.
• Hershal Wiggins' Watch has a dial made of Argentium silver accented with two pure gold squares.