Octopi have many admirable qualities, and if they lived longer they would most certainly take over the world. One octopus in Germany was so annoyed at a bright light in his aquarium that he squirted a jet of water at it and extinguished. He could also juggle hermit crabs and was fond of rearranging his tank. Read more about why octopi are better than humans.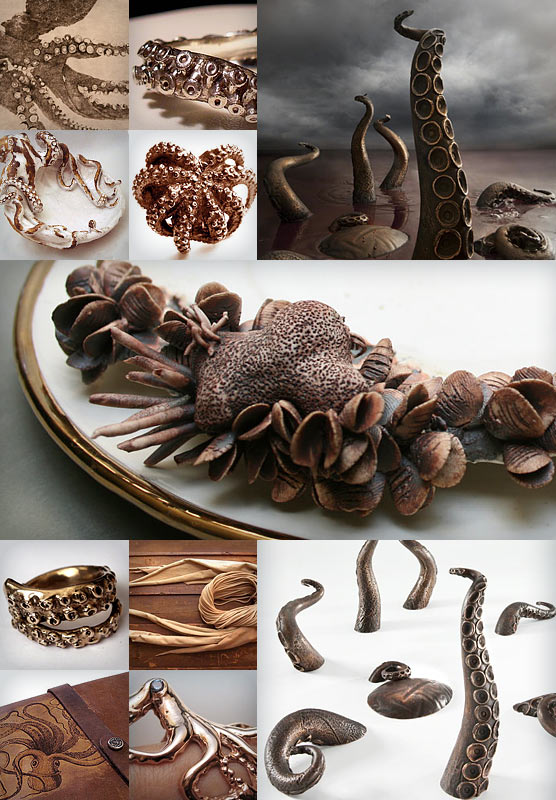 • David Bielander's Kraken is a candelabra, made of cast bronze, that looks like it belongs on a pirate ship.
• Simon Bielander's Krake Photo Print is a realistic rendering of the candelabra's tentacles, only this time the octopus is submerged in red liquid. Perhaps its victim lies underneath.
• Mary O'Malley's Salad Plate has its side encrusted with crustaceans, as if it was removed from the bottom of the ocean. Take a look at her other ceramic work – a breathtaking fusion of fantasy and everyday objects.
• Dwight Hwang's Octopus is an original print made using the gyotaku, the method of depicting fish by rubbing ink directly on paper. The art form goes back to the 1800s when Japanese fishermen recorded their catches of the day. This particular print emphasizes the movement of tentacles, trailing off into lines of ink.
• This Ring by OctopusME is a thick tentacle made of lightly oxidized sterling silver.
• Shayne Greco's Bowl has octopus tentacles sculpted into its rim, spilling over like the crest of a wave.
• Justine Brooks' Ring is a bronze baby octopus fanning its tentacles neatly around a sterling silver band.
• Michael's Ring wraps a bronze tentacle around your finger.
• Decomp's Scarf Set is a combination of three separate pieces with squid-like structures.
• Joe V.'s iPad Sleeve is made of leather engraved with an octopus design and made to look slightly aged.
• Linda Smyth's Ring envelops your finger with tentacles made of rose gold plated silver.