Today we're looking the buddha in a variety of guises, ranging from metal to cardboard.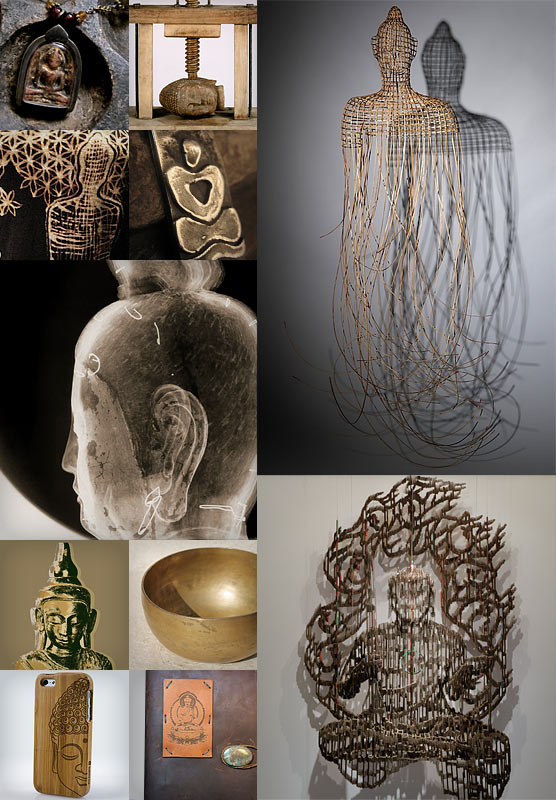 • Sopheap Pich's Buddha is made of rattan and wire, unraveling just below the shoulders. The ends are dipped in ink to recreate the artist's childhood experience of seeing a Cambodian temple full of broken sculptures and bloodstains. You can see this work at the Met in an exhibition of Sopheap Pich's sculpture.
• Yuji Honbori's Butsu is made from strips of recycled cardboard which, from a distance, look like ancient wood carving.
• David Maisel's History's Shadow series consists of re-photographed x-rays of antique objects, like this buddha, digging deeper into layers of structure and decay.
• Deepa's Necklace suspends a dark brass buddha from a chain wired with smokey quartz stones.
• Andrea's Assemblage Sculpture is a tower of pieces from an imaginary attic resting on the side of a buddha head.
• Lauren Begent's Shirt is hand-painted and bleached with a pattern reminiscent of Sopheap Pich's unraveling buddha.
• Barbe's Pendant is made of silver sculpted into a stylized sitting buddha.
• Jean Luc's Thai Buddha Print puts a Pop art spin on the icon in shades of green and mustard yellow.
• Tsering Lhamo's Singing Bowl is hand-hammered into a golden surface and comes with a leather-bound mallet.
• Felix Tirado's iPhone Case will remind you to take a breath before checking your messages frantically.
• Trevor Washko's Journal is made of rich brown oil-tanned cow hide stitched with a small buddha.