"In that case," said the Dodo solemnly, rising to its feet, "I move that the meeting adjourn, for the immediate adoption of more energetic remedies—"
– Lewis Carroll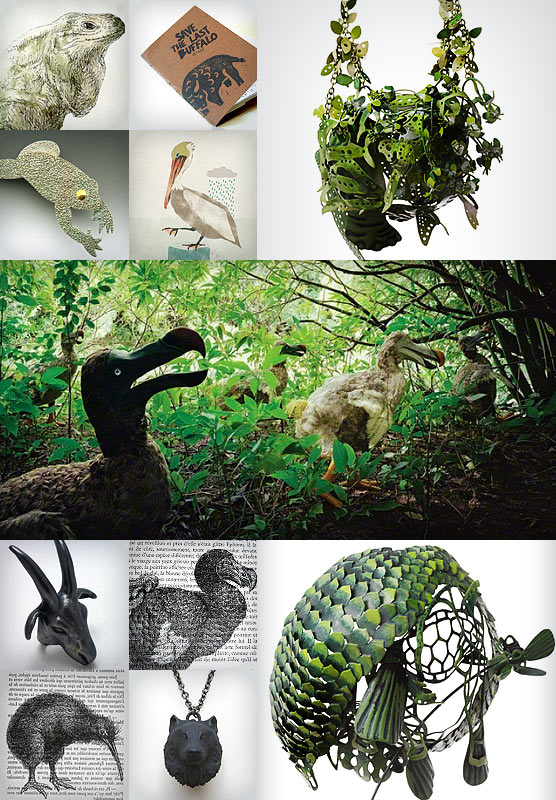 • Hanna Hedman's series While They Away Extinction are endangered animals, tangled in leaves, vines, and wings, all made out of oxidized silver. The natural green hues are a mixture of copper and paint. The sculptural jewelry pieces look like relics found in an overgrown jungle, walking the line between beauty and death in the tradition of vanitas.
• Harri Kallio's project The Dodo and Mauritius Island, Imaginary Encounter recreates the first encounter between man and now-extinct bird. The model Dodos are in their natural environment in the jungles of Mauritius, their form and features based on Lewis Carroll's illustrations for Alice in Wonderland.
• Jane Gehrke's Anegada Ground Iguana is part of her series of endangered lizards rendered in watercolor and ink. 70% of proceeds will go to the Center for Biological Diversity.
• Heather Enders' Save the Last Buffalo Zine is a short and sweet guide to the importance of preserving American Buffalo, with proceeds going to the Buffalo Field Campaign.
• Natalie Knott's Brooch is a leaping frog made of recycled fine silver with a pale green textured patina and gold eye.
• Amy Sullivan's Brown Pelican poses coyly under a summer raincloud.
• Shelby Lou's Ring is sculpted and cast in Shibuichi metal in honor of Azazel, the original outcast.
• Crowbiz's Dodo Print and Kiwi Print place the flightless birds on pages from a 1930s French book.
• Rogue and Wolf's Pendant suspends a black wolf head from a gunmetal chain.