In honor of July 4th, we've selected iconic and contemporary works of American art that play with red, white and blue.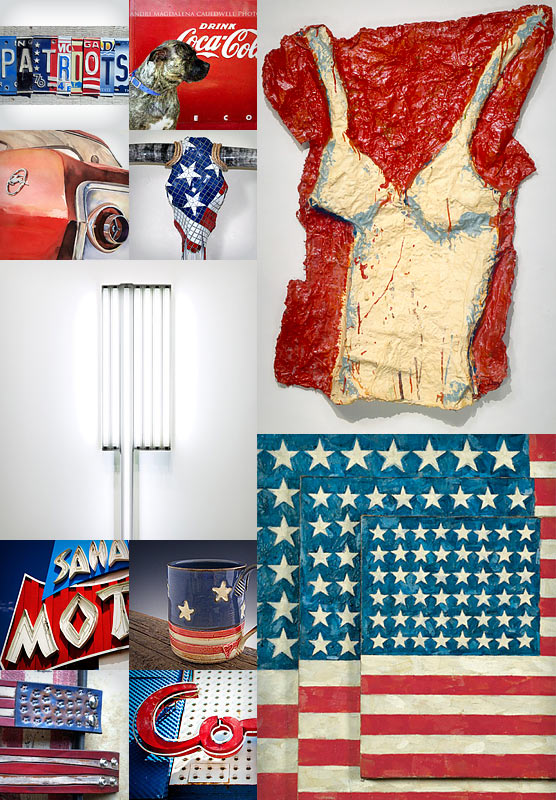 • Jasper Johns' Three Flags is not a patriotic gesture. He painted flags because they are a familiar image and the viewer can interpret it as he or she wishes. The flag is there so you can focus on the sculptural quality of the canvas, as the red, white, and blue pigments float in thick wax. Johns reverses traditional perspective by increasing the size of the stars and stripes as the paintings recede into the distance.
• Claes Oldenburg's Braselette is a combination of plaster, chicken wire, and enamel that still looks messy and heavy. It was part of his Store series of commonplace objects made both utterly alien and strangely familiar. This work is a perfect example of his investment in art that was "coarse and blunt and sweet and stupid as life itself."
• Dan Flavin's Untitled is just a bunch of fluorescent lights that you could get at a hardware store. Like the previous two artists, Flavin takes an ordinary object and makes you question its ordinariness. For him, artificial light is as expressive a medium as paint and sculpture.
• Yolande van Heerden's New England Patriots Sign is made from recycled license plates.
• Andri Cauldwell's American Bulldog stands in front of a Coca-Cola case in New Mexico.
• Paul Buford's 1963 Impala is a watercolor that captures the car's beautiful light detailing and polished surface.
• Rene Gibson's Longhorn Cow Skull has a mosaic flag covering its face.
• Stefanie's Desert of Anaheim is part of her series of photographs of delightfully kitschy vintage signs.
• Cindy's Mug shows its stars and stripes with glaze that looks like it's been around the block.
• Diana Gierat's Cuffs are long leather flags with a rustic surface and silver gunmetal snaps.