If this doesn't brighten up your day, we fail to see what will.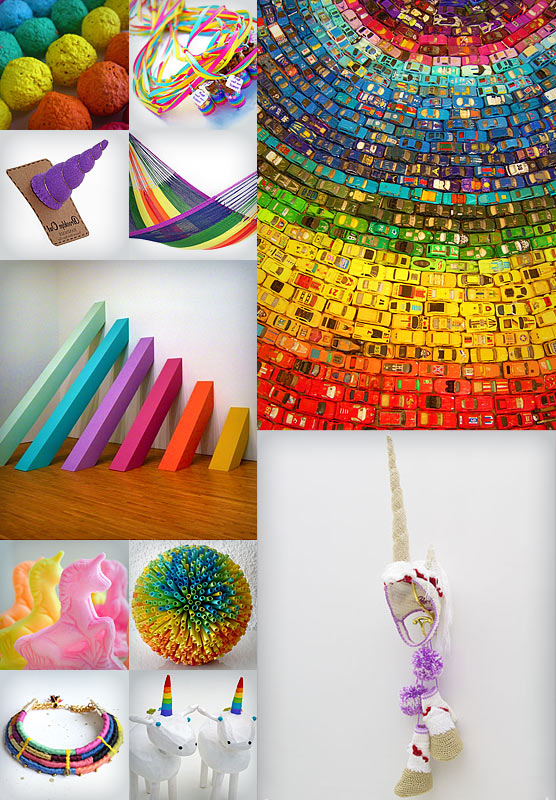 • David Waller's Car Atlas is a rainbow spiral of 2,500 toy cars that just begs to be messed up.
• Kimberley Hart's Corney is a unicorn hat and mittens hanging on a hook, ready for you to slip into fantasy. Her work explores just how closely we weave fairy tales and imaginative narratives into our own lives. To do that, she's not afraid to create work that hovers between unexpected amusement and absurdity.
• Judy Chicago's Rainbow Pickett is a line of trapezoids leaning into a wall in decreasing order of size. It's named after legendary soul singer Wilson Pickett. Stop what you're doing and watch his In the Midnight Hour.
• Paula and Chris Jeanniton's Seed Balls are made of recycled paper scraps in a rainbow of colors and are filled with seeds of flowers like poppies, foxgloves, and snapdragons.
• Amber's Necklaces suspend jars of rainbow glitter from colorful ribbons.
• Annie's Hair Clip is a tiny unicorn horn made of purple felt and metallic gold swirl.
• This Hammock by Yellow Leaf Hammocks is hand-woven by an artisan collective in rural Thailand in rainbow stripes.
• Aubrey Elizabeth's Soaps take the shape of unicorns in pale pastels and smell like berries.
• Veska Abad's Rainbow is a ball of rolled up paper strips that transition from cool blue to warm orange.
• Raphaela Cornut's Nowa Necklace combines four layers of thread-wrapped rope in delicious, summery colors.
• Hilary's Unicorns Who Love Unicorns is an adorable cake topper made from recycled wood.