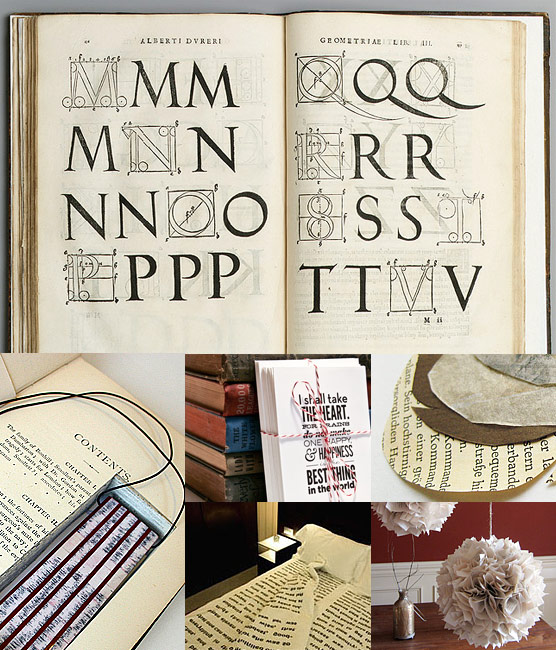 • Albrecht Dürer was a Renaissance man. He approached painting, drawing, and printmaking through the lens of science and mathematics. In 1525, he published a manual on geometric theory for artists that emphasizes the application of mathematics to the study of perspective. He was keenly interested in the development of perspective theory in Italy, ancient texts by Euclid, Archimedes, and Ptolemy, and the innovations of contemporary mathematicians.
• What can you do with old books? Turn them into jewelry, like Jeremy May, who condenses pages into wearable blocks.
• Sarah Hitchcock Burzio's Typography Quotation Notecards re-imagine Lewis Caroll and Mark Twain in beautiful type.
• The bed time story becomes part of the bedding in Tiago da Fonseca's installation. As you turn the linen pages filled with text, you pile on layers and warmth.
• Amy's Eagle Feathers are made from a vintage book about a Russian Steppe Eagle and architectural tracing paper.
• Kim's Book Paper Poms are luscious, flower-like decorations made from book paper.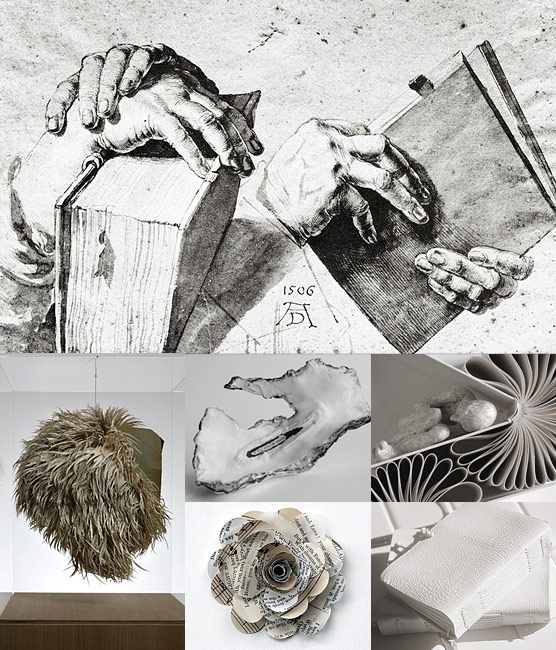 • Dürer experienced the first flourishing of the printing industry, and revolutionized the quality and depth of printmaking. As graphic art adapted to mass production enabled by the printing press, Dürer set the standard for complexity of concept and execution. The printing press and the internet are analogous shifts in terms of how profoundly they changed the acquisition of knowledge. The question is, who is our Dürer?
• Scottish artist Georgia Russell shreds old books and transforms the fragments into fantastical, feathery forms.
• Suzie Chaney's La Tête avec un Sourire (The Smiling Head) is composed of layers of plaster and paper modeled on a dog's skull.
• Daniel Lai's White on White features two sleeping figures among folded old books.
• Vicky Neil creates Paper Roses from old books of romantic poetry and music, but you can also request a poem of your choice.
• Keep your thoughts together in Chen Daisy's luxurious White Leather Journal.