There's nothing more refreshing on a hot summer day than a flurry of pink textiles.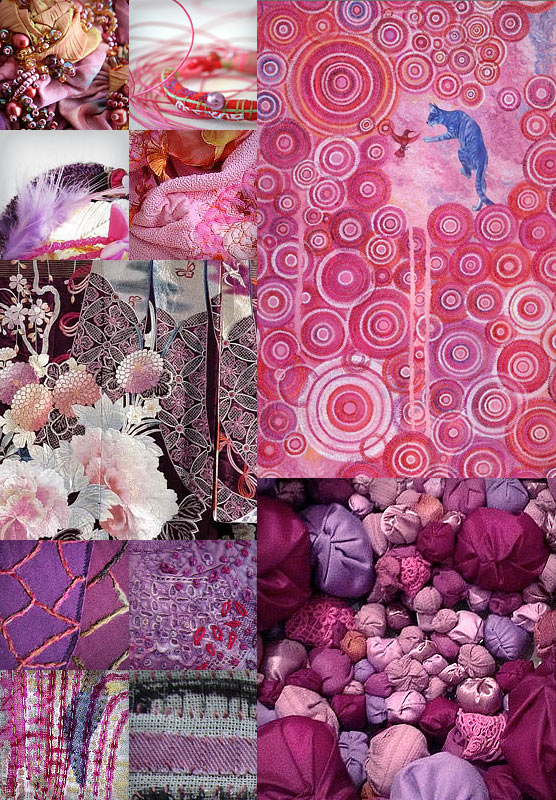 • Yoshino Masui's Apapane is one of her bite-sized imaginary landscapes painted in watercolor. She often depicts small animals wandering through expanses of abstract patterns.
• Natsuko Hattori's Grandmother is a cluster of balls individually wrapped with fabric in all shades of purple.
• This 19th century wedding Kimono is embroidered with a dense pattern of cherry and peony blossoms.
• Carla Fox's Bali Sunset Necklace is a tropical cocktail of fabrics, buttons, beads, and pearls in pink and peach shades.
• Stella Vardacki's Bracelet is hand-embroidered with pink, red, and green cotton threads.
• Leanne Woods' Brooch surrounds a deep purple and golden leaf with a purple feather and beaded stamens.
• Mizzie Morawez's Top covers stretchy pink fabric with opulent bouquets of embroidered floral appliqués.
• Erica Daley's Fallen Leaves are layered in shades of burgundy and purple with veins embroidered from wool and mohair yarn.
• Sarah Hopping's Wall Hanging combines remnants of vintage lace, linen, and embroidered cotton dyed in dark reds and purples.
• Deborah's Textile Painting layers cotton fabric, old lace, silk organza, and metallic paints.
• Kristin Brenneman Eno's Steel Wound stitches together fabric segments inspired by the shape of the Thunderbolt, an abandoned wooden roller coaster in Coney Island.