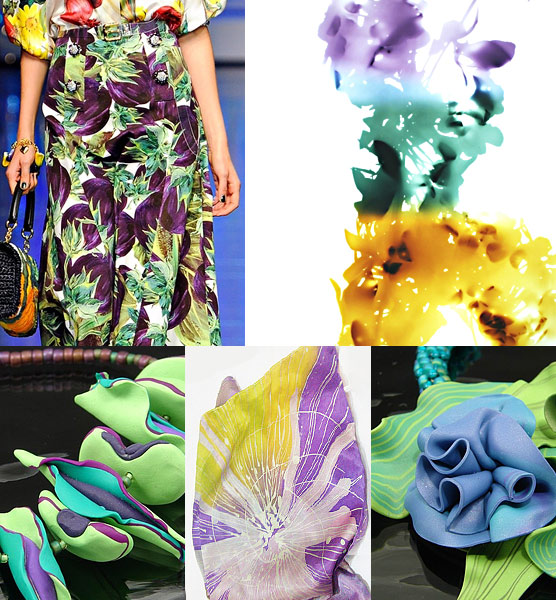 For his series Flowers, James Welling exposed blossoms on film, processed the negatives, and projected color through them on to photographic paper. The blurred and hazy areas recreate the experience of squinting through flowers at the sun. It's pictorial photosynthesis, as the flowers absorb light and turn into silhouettes with vibrant, impossible colors. Welling is another modern naturalist, experimenting with perceptions of nature.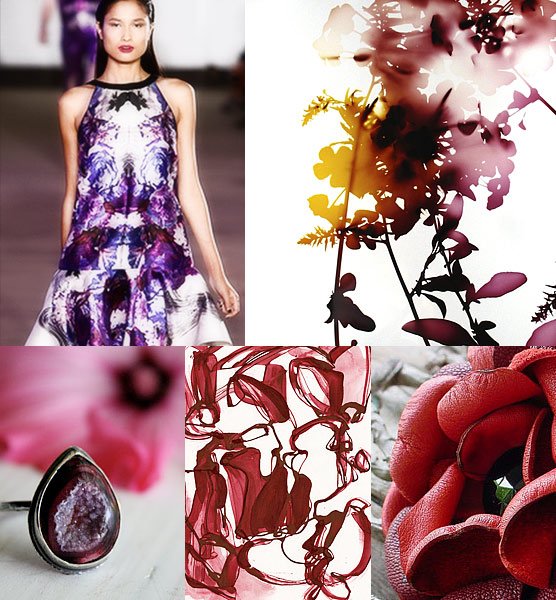 • Skirt by Dolce & Gabbana, Dress by Prabal Gurung
• Linda Garbe's Pod String Necklace is a tribute to spring in polymer clay. Her Floral Necklace Sculpture suspends a soft polymer flower from a cord that was made using a Japanese technique called Kumihimo.
• Peggy Komvotea's Batik Silk Scarves are hand-painted in unique patterns and bright colors.
• Tawny's Kismet ring features a mesmerizing maroon cabochon wrapped in silver.
• Sarah Intemann's Crimson Series transforms the natural movement of plants into dynamic abstract paintings.
• Mano Bello's Flower Brooch is a luscious layering of soft leather that rivals the real thing.