According to Greek myth, eating pomegranate seeds trapped Persephone into returning to the Underworld each year. Here is a visual feast of pomegranates that you can indulge in with no consequences.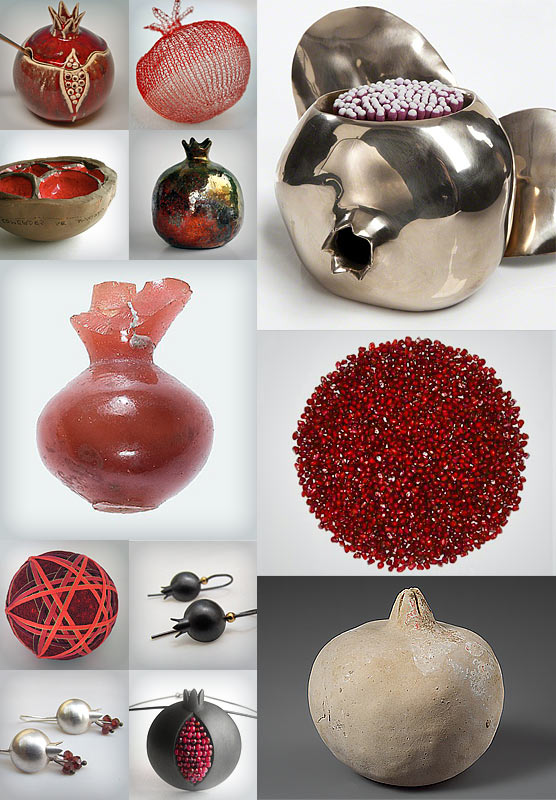 • David Wiseman's Matchstick Holder takes the shape of a pomegranate in polished bronze. Wiseman takes elements from nature – tree branches, seed pods, honeycombs – and integrates them seamlessly into household objects.
• Sakir Gokcebag's Pom is a photograph of pomegranate seeds arranged in a perfect circle. Take a look at his other series of fruits presented in simple, graphic compositions.
• This Pomegranate Pendant dates back to the reign of Amenhotep III, around 1350 B.C., but it has lost none of its juicy luster.
• This Terracotta Pomegranate dates back to Classical Greece, around 5th century B.C., when the fruit was associated with funerary rites.
• Henriette's Pomegranate is a small container with a cross-section of seeds on it's glossy glazed surface.
• Yael Falk's Pomegranate is crocheted from fine metal wires.
• Teresa Ponte's Pomegranate Bowl is divided into compartments on the inside like the interior of the fruit and glazed a deep red color.
• Tevfik Türen Karagözoğlu's Pomegranate is raku fired to create a complex surface of coppery reds and greens.
• Zina's Temari resembles a pomegranate with embroidery and criss-crossed threads in shades of dark red.
• Gazit's Black Earrings suspend oxidized sterling silver pomegranates, while her Silver Earrings each have three garnet pieces dangling from the bottom.
• Boline Strand's Necklace frames red precious stone seeds in an oxidized silver pod.
This Chocolate Pomegranate Tart looks mouth-watering, but if you don't have the time to do anything fancy, here's the best way to remove the seeds from a pomegranate – submerge the whole thing in a big bowl of water, cut into chunks, and pick out the seeds, which will conveniently float to the top.