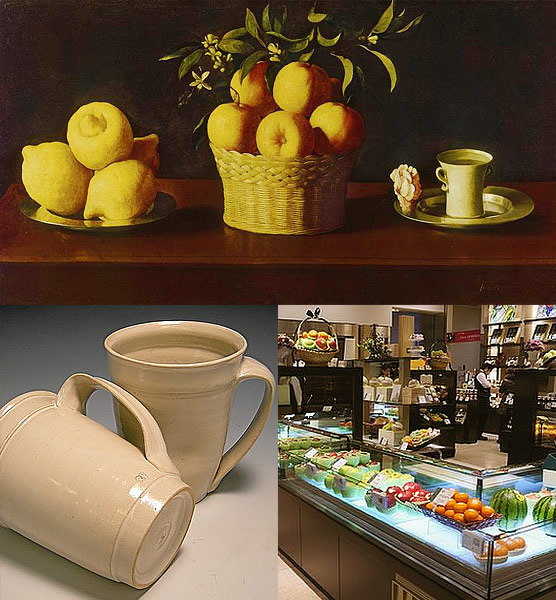 • Francisco de Zurbarán, Still Life with Lemons, Oranges, and a Rose, 1633
• Two White Coffee Cups
• Japan's Obsession with Perfect Fruit
Would you pay $25 for an apple, $83 for twelve strawberries, or $419 for three melons? That's what Senbikiya, a store in Tokyo, asks for their perfect fruit, carefully cultivated, selected, and displayed as luxury items rather than food. The business would never succeed in New York, but giving perfect fruit as a gift is popular in Japan.
The rich tradition of still-life painting tells the story of fruit as a symbol of luxury, decay, perfection, and spirituality. Take a close look at Zurbarán's Still Life with Lemons, Oranges and a Rose. The more you look at the painting, the less edible the fruit seems to be. Zurbarán renders each object with such precision and clarity that the three arrangements appear to float above the wood table, suspended and separate from everyday consumption. The composition alludes to the Holy Trinity, with the thornless rose and white cup symbolizing Virgin Mary. At the same time, it's just an arrangement of fruit.