There's nothing better than sinking your teeth into a juicy peach in the summer. If you haven't had that pleasure yet, we've got some fresh alternatives.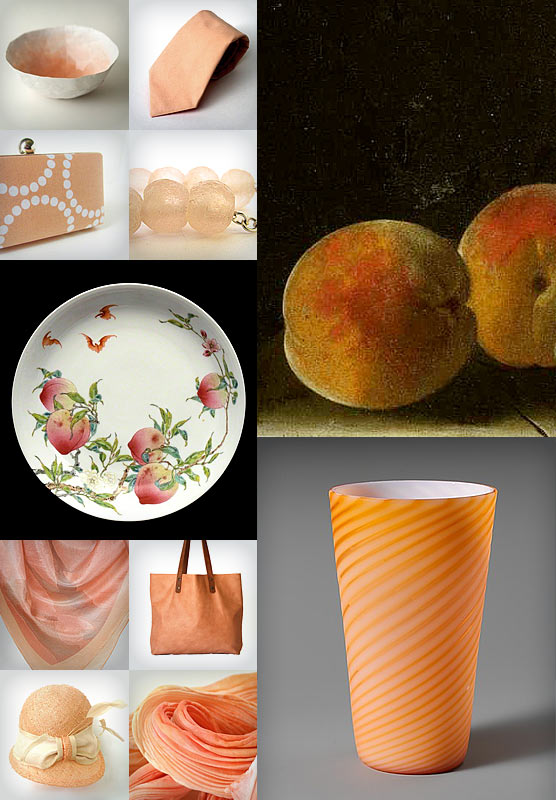 • Adriaen Coorte sets a dramatic spotlight on his Peaches, exposing the blush pink tendrils on creamy, pale yellow skin. Although lavish vanitas displays are the most well-known of the Dutch golden age still lifes, Coorte's depictions of market vegetables are, for me, more impressive. He can focus on three peaches, a bunch of asparagus, or a handful of gooseberries and render them with the complexity of a dramatic play.
• This Tumbler with its peach pink glass swirl dates back to 1885 England.
• This Porcelain Dish dates back to 18th century China and has the quirky combination of bats and peaches.
• Susan Dwyer's Pair of Bowls fade from peach to white on their delicately uneven paper maché surfaces.
• Emy Uhlig's Tie is made of cotton in a fleshy peach tone.
• Jaime Diehl's Clutch is covered in peach fabric with a pattern of white dots that resembles pearl necklaces.
• Pegg's Necklace strings together translucent glass beads in soft, peachy pink.
• Louis Jane's Silk Scarf has a peach and pink pattern inspired by light hitting water lilies through trees.
• Leah Lerner's Tote is made of peachy Italian leather with a dark brown strap.
• Miriam Perl's Cloche Hat is made of straw and wrapped in grosgrain ribbon – perfect for a posh picnic in the summer.
• Joy Cain's Silk Scarf is pleated and dyed using the Japanese art of Arashi Shibori.