The Buddhist lotus rises its pure petals above murky waters, signifying rebirth and enlightenment. We wanted to explore the less-than-perfect, and slightly more interesting, side of the lotus with selections that interpret its shape in metals, wood, and ceramics.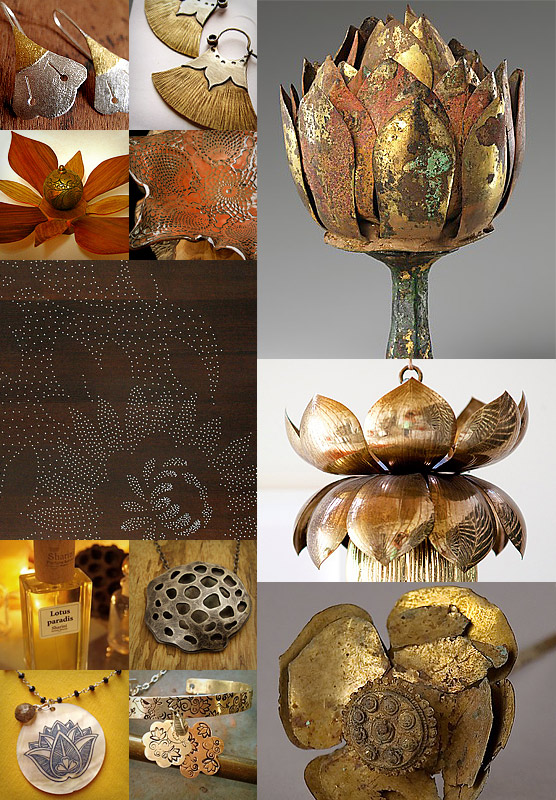 • These Tables by Sandback, a family-owned furniture business based in New Hampshire, are embedded with over five thousand nails that make up a subtle lotus design.
• This Gilt Bronze Lotus dates back to Tang dynasty China. The symmetrical petals are covered with a range of peeling gold, rust, and lichen. The uneven surface and upright posture resembles a torch still lit more than a thousand years later.
• This Lotus Ornament with brittle bronze petals dates back to twelfth century Cambodia.
• Marta Sanchez' Earrings are stylized sterling silver lotuses with gold stems, evoking the Ancient Egyptian belief in the lotus as a symbol of the sun and rebirth.
• Mocahete's Earrings mix bronze and sterling silver to create flared out lotuses inspired by Ancient Egyptian designs.
• Derek Smith's Wall Flower has petals made of reclaimed cedar and oak and a brass finial center pod.
• Cheryl English's Lotus Bowls have an intricate lace pattern imprinted on their surface.
• Rebecca Tracey's Lotus Perfume has floral notes of tuberose and orange blossom.
• Becky Wofford's Pendant recreates the porous shape of a lotus seed pod in sterling silver.
• Gina Callender's Necklace suspends a mother-of-pearl pendant, etched with a lotus, from a string of wire-wrapped stones.
• Shae's Bracelet is made of sterling silver and copper, hand-stamped with an intricate pattern of vines, lotuses, and birds.