When spring flowers give way to summer heat, we can still conjure them with wire, fabric, and clay.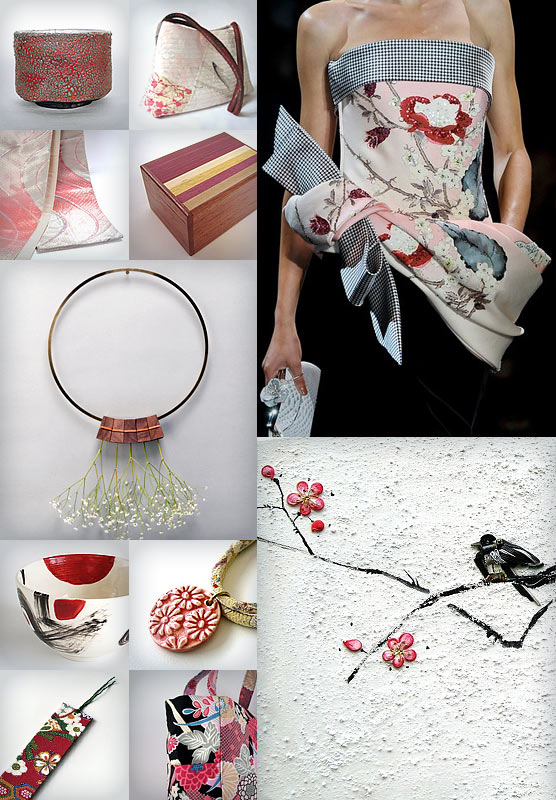 • Nobu Miake's Fadeless is a series of vases that hang upside down to preserve the flowers. Instead of a bouquet that last for a few days, these stems become part of living sculpture.
• Kim Yong Soo's Cherry Blossom branches are dashes of paint on white acrylic cement, supporting a small bird made of semi-conductors and speaker wires. You were expecting something more natural?
• The Armani Fall 2011 Couture Collection included a luscious, asymmetrical bow draped across the waist and printed with rigid checkerboard and floral patterns.
• Cathi Newlin's Tea Bowl has a raku surface that crackles with flaming orange and pale green glazes.
• Donna Harvey's Bag combines tweed with vintage Japanese kimono fabrics and has a dark red suede handle.
• Kazari and Ziguzagu's Fukuro Obi is vintage fabric with a pattern of iridescent pink and cream waves.
• Tomomaru's Puzzle Box is made of pure walnut wood with purple and golden stripes. Opening this type of box might prove a little tricky, but it's a challenge that dates back to the 19th century.
• Midori's Bowl is made of porcelain and hand painted in loose red and black brushstrokes.
• Vicki M.'s Necklace suspends a pale pink ceramic blossom from a chirimen fabric cord.
• Genoveva Pérez Volpe's Bookmark is made of Japanese fabric and book binding paper.
• Jill Bornemann's Market Tote is covered in a canopy of ornamental flowers.