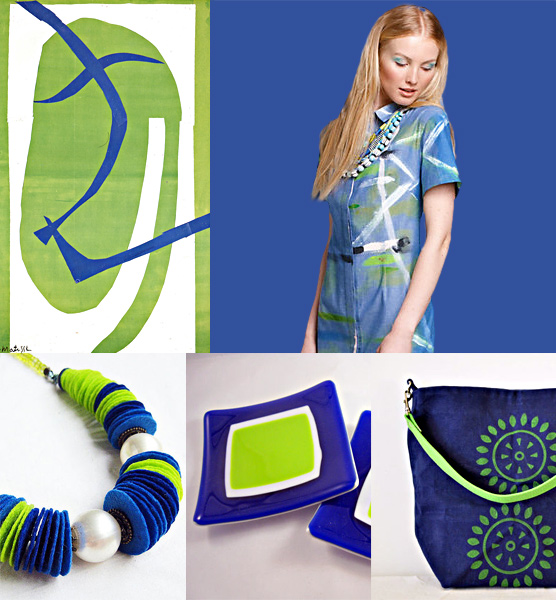 Matisse's Japanese Mask (1950) has the spontaneity of a brushstroke and the bright color of an ukiyo-e print, but it's just a few scraps of paper. His cut-outs were the culmination of many years of painting laboriously. With paper, Matisse felt liberated to experiment with an ease that he couldn't achieve on canvas. The cut-out had no pretensions. A mask's exaggerated expression could become non-representational movement, and a Blue Nude with Green Stockings (1952) could jump on a blank page.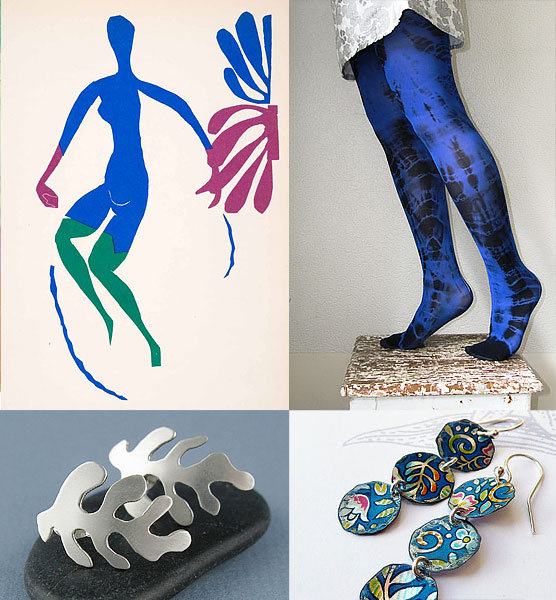 Each Blue Studio Shirtdress by Anthropologie is hand-painted by artist Naomi Clark. Now you can look like you just came from the studio without getting messy.
Alina's Felt Necklace is a bold and whimsical statement with three faux pearls to give it a classic touch.
What better and bolder way to eat sushi than from Cathy Jenkins' Twin Sushi Dishes, handcrafted from fused glass.
heyBoom's chic and durable Tote Bags are made from vegetable tanned leather and cotton canvas.
Baiba Osite's Shibori Tights have a unique hand-dyed pattern that will liven up any wardrobe.
Anne Walker's Leaf Earrings give Matisse's cut-outs a sleek and modern interpretation.
Nancy's Sterling Earrings are hand-cut from vintage oxidized tin with patterns inspired by Matisse's cut-outs.