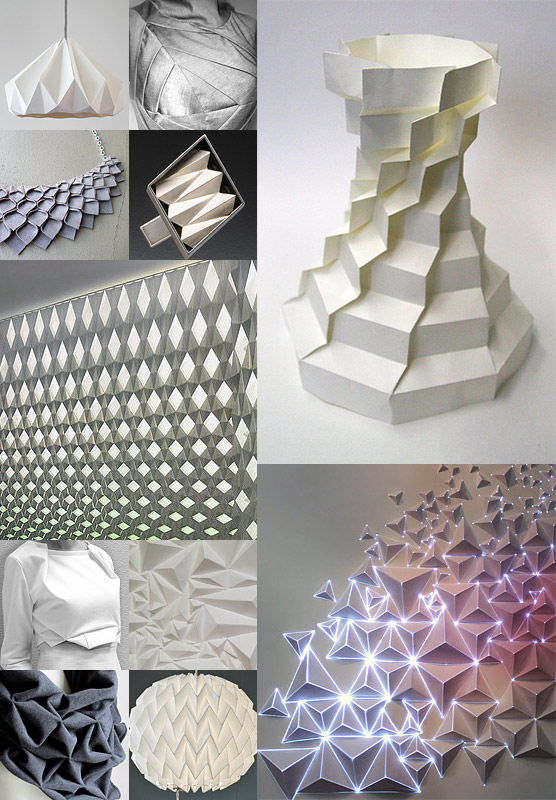 • Joanie Lemercier's Origami Wall projects light onto folded fractal pyramids, giving the illusion that the paper just covers an illuminated field beyond the wall.
• Jun Mitani realizes the beauty of precise geometry with his Tech Origami, which are the three-dimensional versions of various algorithmic models.
• Olafur Eliasson's The Other Wall is a geometric pattern of light panels that fade and curve in the foyer of the Oslo Opera House. Eliasson was inspired by sound waves and the movement of water under glaciers, which operates at a slower speed than the world above. In that sense, he mirrors the experience of being absorbed by an opera performance.
• This Lampshade by Studio Showpuppe is made of paper folded into a shell-like origami pattern. Their lampshades create a warm, subtle glow and come in different colors.
• This Origami Dress by FedRa follows the contours of the body with layers of silver fabric that resembles a light, delicate piece of armor.
• This Necklace by HakNik layers petals of pale lavender suede.
• Katherine's Cuff Links adds depth to details with folded sheets of silver.
• This Origami Top by LaBronz creates a unique silhouette inspired by folded paper and modern architecture.
• Ryan's Wall Sculpture fuses pieces of handmade origami to create a rich, fluid canvas for reflecting light.
• Juliane's Wool Shawl wraps you in sculptural folds that you can adjust into different variations.
• Justina's Bubble Lampshade is an origami globe with a subtle zig-zag pattern.