What luck! Here are some koi and goldfish swimming in ponds of gold, paint, resin, paper and wood.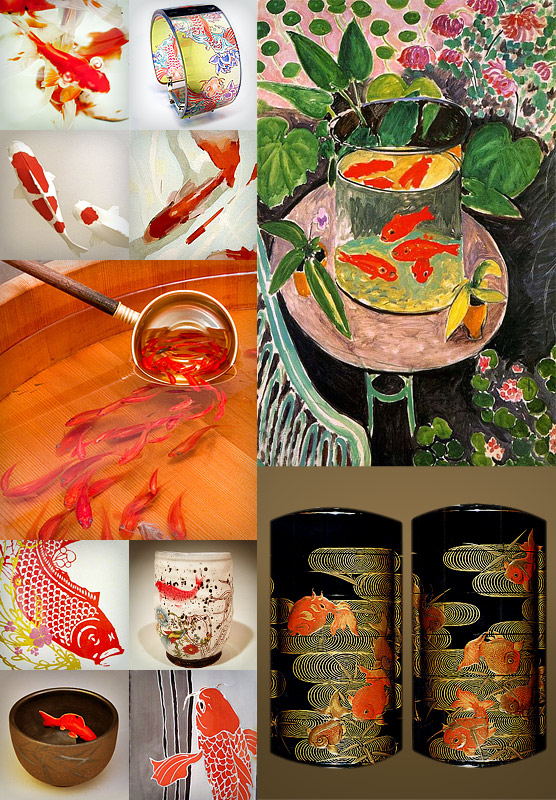 • Matisse's Goldfish swim among a lush garden that creeps into the water and wallpaper. Even the railing resembles a climbing vine. The compression of all these elements allows Matisse to explore color and composition in the most vibrant way possible. We know he encountered Japanese decorative work, and his vase of goldfish looks like a modern interpretation of this Inrō from the Edo period. Traditional Japanese clothing didn't have pockets, so inrō were cases that opened into several nesting boxes meant to hold small objects – like a handbag. The stylized waves were made by hiramaki-e, a technique that involved dusting gold powder on the lacquer while it was still wet. Matisse's vase also has a golden glow reflecting in the nearby plants.
• Riusuke Fukahori's Goldfish are paintings suspended in resin, but the finished works look so much like real fish that you have to watch this video to believe that they come into being through a meticulous process of layering.
• Aya Wind's photograph of Goldfish captures dashes of orange-red and translucent tails intersecting.
• BMC's Watch is made of transparent resin printed with a colorful koi design.
• Sipho Mabona's Koi are delicate sculptures each folded from one square of uncut paper.
• Suzanna Schlemm's Koi in Clear Tank depicts the fish in loose brushstrokes swimming in pale blue water.
• Candy Coated's Koi Swimming is a screenprint in shimmering red and gold inks.
• Justin Rothshank's Tumbler made of wheel-thrown clay covered with decals of koi and vintage flowers.
• Mochi Liu's Tea Bowl has a deep brown exterior with black bamboo leaves and a koi fish on the inside, painted by his father Xiaoyong Liu.
• Takuyo's Silk Scarf is hand-painted with an elegant red koi swimming in waves of blue and grey.