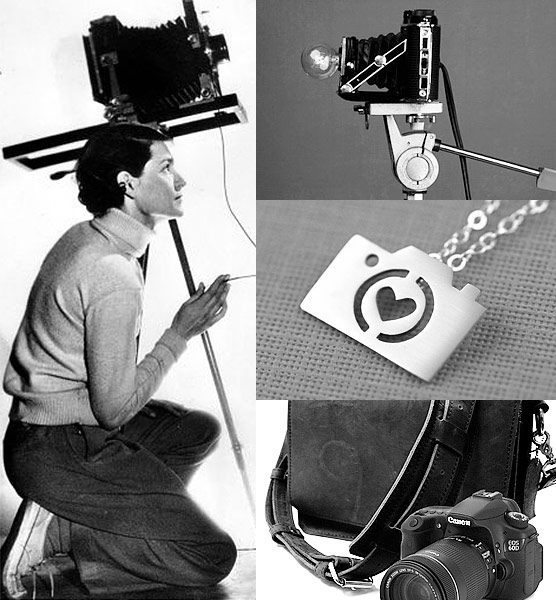 • If anyone gets in my way when I'm making a picture, I become irrational. I'm never sure what I am going to do, or sometimes even aware of what I do – only that I want that picture. M. Bourke-White
• Milan Bender's Upcycled Vintage Camera Lamp is a bright idea: a gorgeous vintage Ansco B2 Speedex as a functional work of art.
• Ashley's Camera Love Necklace is a tribute to photography in sterling silver.
• The Mission Camera Bag by Copper River Bags is made from water-resistant, stone oiled leather, and will keep all of your equipment safe and organized.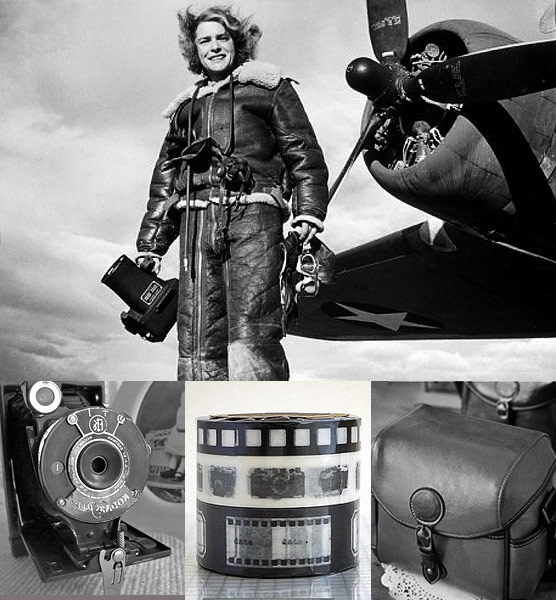 • Margaret Bourke-White knew how to make the most out of danger. During her time at LIFE Magazine, she traveled extensively as a war correspondent and documented the American south during the Great Depression. She accompanied an Air Force bombing mission and photographed Gandhi a few hours before his assassination. Her images told stories in the pages of LIFE with an emphasis on the humanity of her subjects, but she was equally committed to the aesthetic quality of each photograph. Her early work glorifies the machinery of steel mills as monumental sculptures, and she continued to find the dramatic and remarkable quality in political events as well as individual portraits.
• Cynthia Hawthorne's Kodak Petite Camera is a rare model from 1929-1933, with an Art Deco pattern on the case.
• PrettyTape's Washi Paper Tape has designs of film strips, camera icons, and labels all rolled into one.
• Sun Mark's DSLR Camera Bag is hand-stitched in brown and black leather.