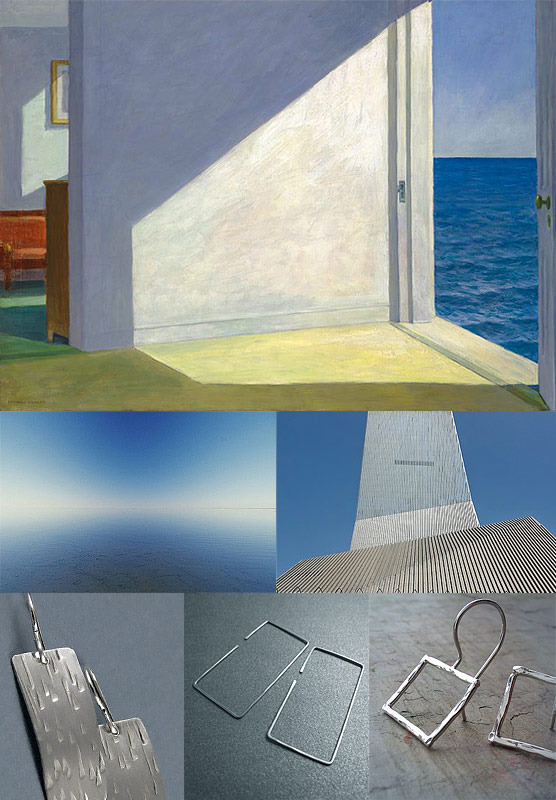 • Edward Hopper was not good at painting people. They are awkward and expressionless in his cafes and city apartments. But his deserted landscapes come alive with an inkling of eerie anticipation, as if some important event is just about to happen in that empty spot. He visualized silence and solitude with light and shadow. Rooms by the Sea depicts his summer home in Cape Cod, but the slice of sunlight transforms into a Surreal invitation.
• When Australia's Lake Eyre foods, the sky and sea become mirror images.
• Dominique Landau's Modern Architecture flips Hopper's shadow into a steel tower.
• Janis' Silver Hoop Earrings are simple, minimal, and lightweight.
• Megan's Window Earrings reflect light off their uneven, silver surface.
• Anne's Waterfall Earrings have a curved shape and hammered texture inspired by Japanese Zen Gardens.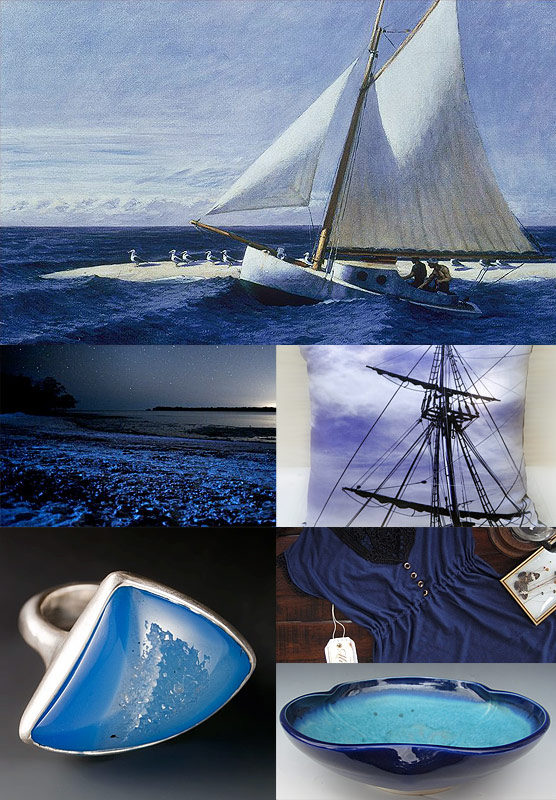 • The problem with calling Hopper a realist painter is that his paintings seem to inhabit a world just slightly removed from our own. He intensifies the stifling atmosphere of New York and crisp air of New England with a cinematic approach to composition. Martha KcKean of Wellfleet captures that same sense of anticipation with the soft gradations of light on the sails.
• Bioluminescent Phytoplankton give the sand a blue glow.
• Tania printed a photograph of a pirate ship on her Nautical Pillow.
• Konstanze's Bermuda Triangle Ring frames a dynamic piece of drusy agate in sterling silver.
• Minkie's Ocean Blue Shirt is a light and fitted tunic with black lace applique.
• Kristin's Serving Bowl looks like rippling water with an organic shape and cobalt blue and turquoise contrast.