In one corner of a city wall, free from calculated attempts to maintain a flawless facade, clouds of soot and tar frame violent battles of paint with an army of scratches and cracks. The scene accumulates more by chance than design; stray thoughts of a passing sign maker are swallowed by the whims of the environment. When he wasn't frequenting the seedy nightclubs of Paris in the '30s, Brassaï took portraits of these signs and built another layer of almost mythical significance. He believed modern graffiti to be the distant echoes of cave paintings and register the primal, frenzied rhythms of life that go unnoticed in a civilized society. His romanticized narrative is, like the walls, cracked and flawed.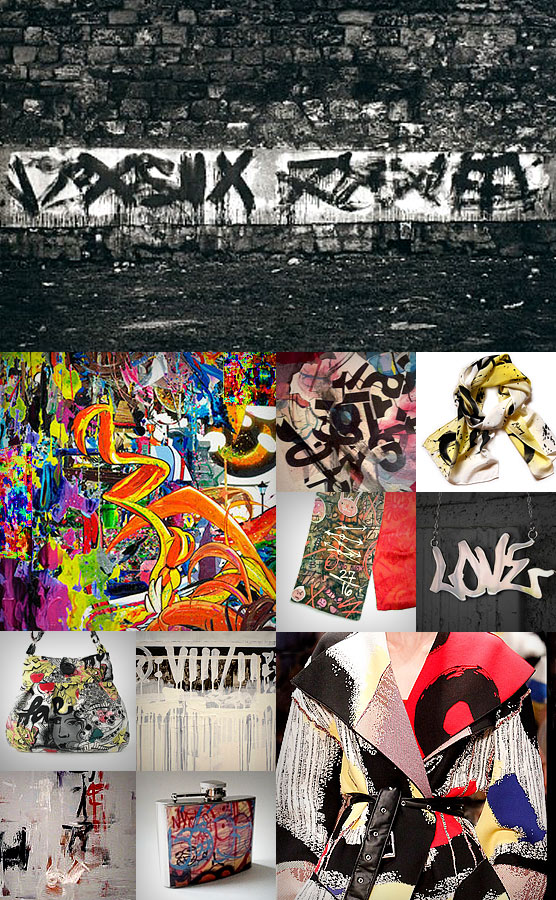 Graffiti by Brassaï, 1944-45; Collages by Kazuki Umezawa; Brassaï inspired fashion from Celine Spring 2014
Handmade items to buy (clockwise): Collage by Kenneth Park; Scarf by Mahoney; Necklace by Christie Martin; Scarf by Kate Schneider; Bag by Daphne; VIII/II by Joseph Nicolia; Flask by Citybitz; Exposed by R.L. Nielsen
Brassaï's photographs preserve what is essentially an ephemeral medium, subject to the flux of the city. As a document, it's supposed to give us an unmediated window into the facts, of what the wall looked like. But his portraits enter into a space adjacent to reality, where each mark, taken out of its original context, plays its part in epic proportions. Like the myths of Ovid's Metamorphosis, the graffiti tells the story of visual transformation with an undercurrent of violence. Can we really trust our eyes in a back alley?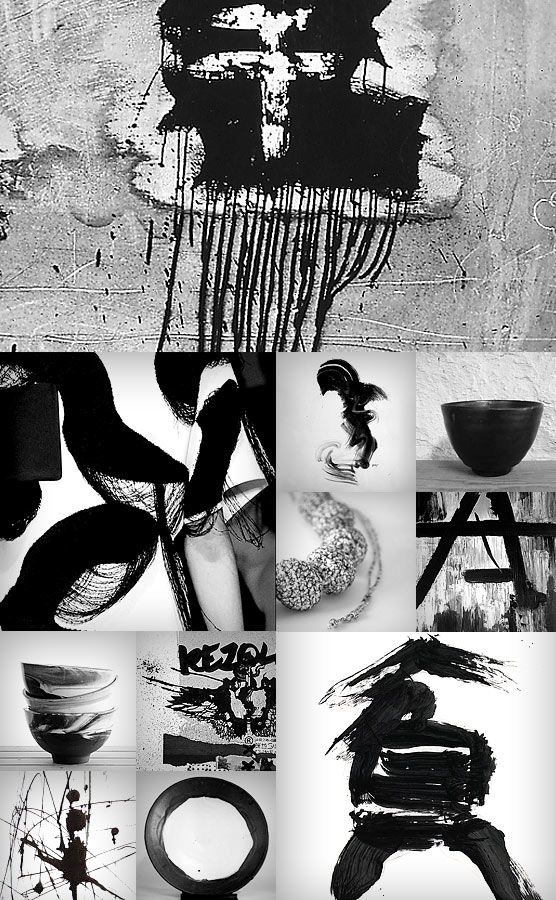 Graffiti by Brassaï, 1944-45; Calligraphy by Yuichi Inoue
Handmade items to buy (clockwise): Painting by Paul Maguire; Bowl by David Pike; Painting by Suzanne Stacy; Necklace by Joyas Textiles; Bowl by Yaara Landau-katz; Controlled Chaos by Joseph Nicolia; Web of Consciousness by The Minimal Art Company; Bowl by David Pike
In a recorded conversation between Brassaï and Picasso, the painter remarks on the democratic nature of graffiti, that they "belong to everyone and no one." To some extent, that's true. Anyone can make their mark on a city wall. Unless you're Picasso. He recounts carving a graffito into a bank's wall during its renovation. When people found out it was a Picasso years later, the now masterpiece was cut out and ended up in the director's apartment. Compare that with this graffito that just barely registers the double-barred cross of Lorraine, the symbol of Free France during WWII. Black paint has almost eaten away at its white stripes but the symbol remains recognizable. It's hard to believe the stories of each graffito don't end in Brassaï's photograph, but continue decaying and morphing into new markings.