…I beg you! – the exasperated Mr. Bennet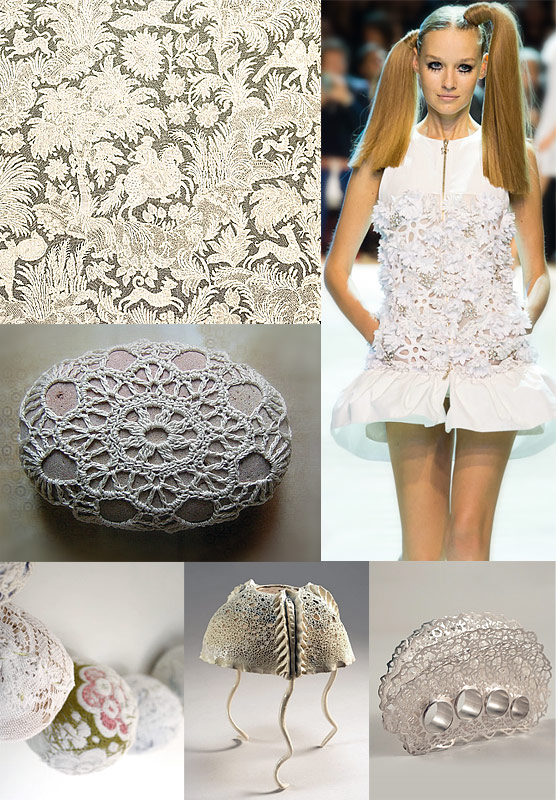 • When Mr. Bennet interrupted Mrs. Bennet, she was waxing poetic about the lace upon Mrs. Hurst's gown. Country balls rarely saw such elegant and expensive dresses. A few decades later, lace would lose its power as a symbol of wealth and refinement. During the mid-nineteenth century, fashions changed and machines made the painstaking process of lace production obsolete. However, the seventeenth and eighteenth centuries had seen the craft develop into an art form. Flanders became the source of the finest lace available. The flax grown on Flemish soil resulted in thread of superior quality. This particular example shows a hunting scene in meticulous detail, down to the buttons on the hunter's waistcoat. The piece probably belonged to a man, but certainly not Mr. Bennet.
• See this lace and many more examples in the Gems of European Lace, ca. 1600-1920 at the Met. If you can't make it, read more about lace here.
• Lace is not dead! The latest collection from Moncler Gamme Rouge combined sporty mesh with lace patterns and three-dimensional flowers, all in bright white.
• Monica's Lace Stone envelops a beige-peach stone with an intricate crocheted pattern.
• Himmeli's Days Go By is sewn together from scraps of old fabric and lace.
• Meghan's Floater sculpture is an underwater creature made of porcelain with a shell that resembles delicate lace.
• Erin's Lace Knuckles is a delicate weapon with hand-cut sterling silver based on antique lace patterns.