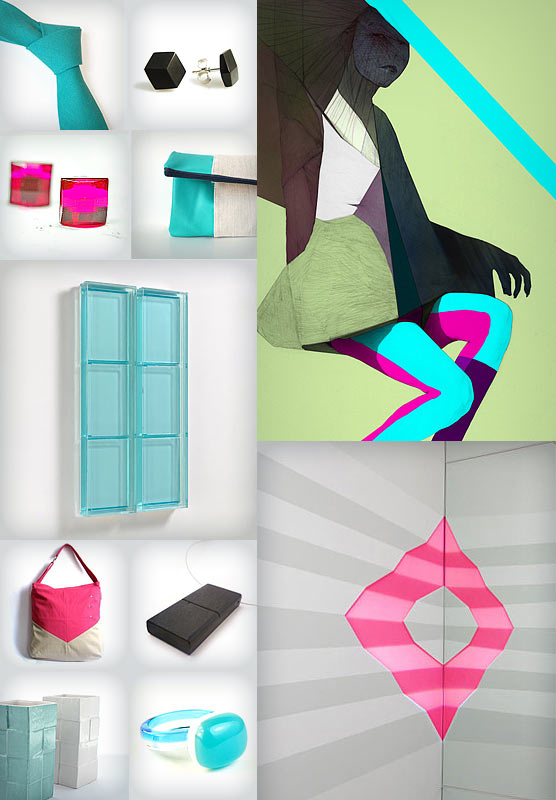 • Rachel Whiteread's Circa 1760 is a translucent resin window that does not reveal any view or bring in any light. Useless, really, but kind of eerie in the company of other such doors and windows in a white gallery space. The slight imperfections in casting that show near the edges are reminiscent of Agnes Martin's hand-drawn grids.
• Steve Kim's Super Secret Powwow is part of series of portraits of Tumblr users, playing with the line between academic drawing and digital illustration.
• Jay Shinn's Reflexive creates an illusory wrinkle, a rabbit hole in the white gallery wall with projected light, latex paint, and mirror.
• Christie Thompson's Necktie has a skinny shape made from teal blue linen.
• Gitte's Studs are tiny flattened cubes made of matte black ceramic.
• Tara's Studs are faceted acrylic crystals with dashes of fuchsia and red.
• Martina's Clutch combines thick, textured linen and teal blue leather.
• Zita's Tote Bag is made of neon pink and beige canvas that's studded with rivets.
• Olga's Necklace suspends a bar of black ebony wood from a thin stainless steel cable.
• Meg and Lucie's Tumbler is made of porcelain with a surface of slightly shifted squares.
• Jasmine's Chiclet Ring frames blue resin like a piece of candy coated gum.