Now, among the ways of painting, monochrome is by far superior. In the few inches of a painting, a hundred thousand miles of scenery may be drawn. East, west, south, and north seem to be before the eyes; spring, summer, autumn, and winter are produced under the brush.
– Wang Wei (701-761) on landscape painting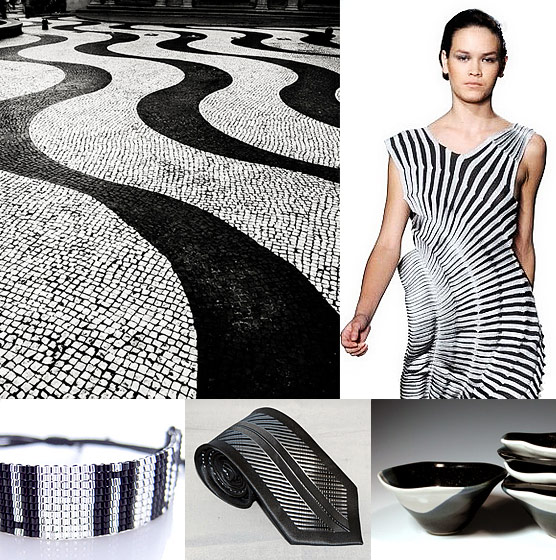 Josef Hoflehner's portfolio travels from Paris to Singapore, Havana to Zanzibar, Dubai to Rio, the sand dunes of Yemen to the shores of the Li River, capturing each destination with monochrome simplicity. Whether he photographs icy outposts in Iceland or the canals in Venice, Hoflehner creates images that seem to expand beyond their edges. Bustling cities acquire the same stillness as a line of rocks receding into the ocean. Senado Square in Macau, China becomes a sinewy river.
Alice Palmer is a young designer from the UK with a Fall 2012 collection of sculptural pleats.
The Urbania Monochrome bracelet by JeannieRichard translates modern architecture into a play of black and silver-lined beads.
The Black Tie with White Stripes is hand made by Tien Son, a tailoring business that reaches back eight generations to a small village in Vietnam.
The Striped Petal Bowl Set by Spirit Dancing resembles thin flower petals moving in the wind.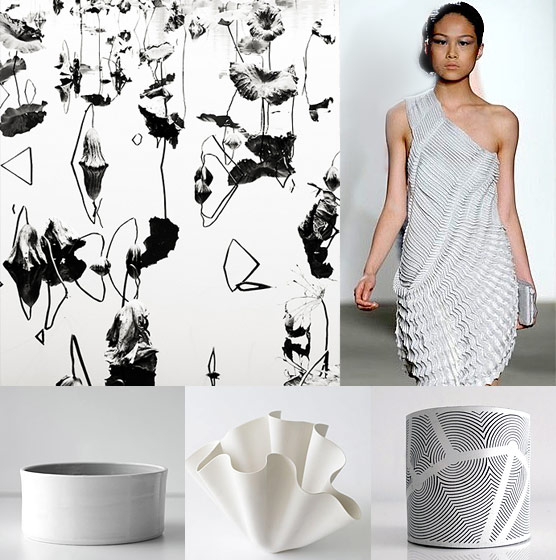 In Hoflehner's Lotus Pond, photographed in Zhejiang, China, the rough textures of decaying lotuses come alive in a still pond.
The White Dinnerware Bowl by Vitrified Studio is minimal and sleek, with a blue-grey inside. Read an interview with Shelley and look at more of her modern ceramics.
The Porcelain Vase by Tokyo Craft Studios is poetry in porcelain. Each piece is made by hand and has a unique wave pattern.
The Crop Circles and Road Leather Cuff by Karole Mazeika creates a mesmerizing pattern of circles etched in white leather. She distills technical skill and her extensive travel experience into pieces that are bold, modern, and wearable.