Literature and butterflies are the two sweetest passions known to man.
– Nabokov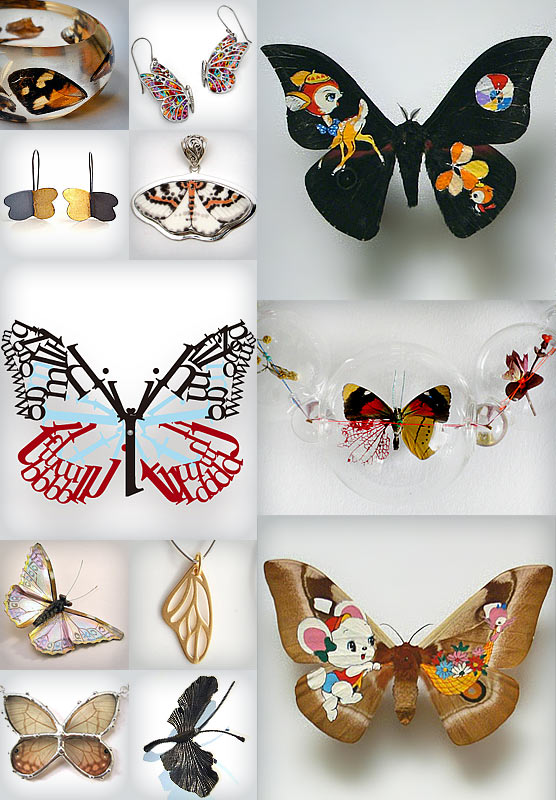 • Anne Ten Donkelaar's Wittenoord series of necklaces floats fragile flower petals, dragonflies, and butterflies in glass beads.
• Guusan's Typographic Butterflies have wings assembled from letters, and each butterfly represents a different type set.
• Akihiro Higuchi's Collection 0610 displays moths painted with sentimental elements like flowers and old-school animated characters, a tongue-in-cheek way of dressing up the otherwise plain specimens.
• This Bangle by Luddite Made gives new life to butterfly wings found on a nature walk by suspending them in translucent resin.
• Adi Moran's Earrings are butterfly wings made of polymer clay in a colorful millefiori and framed in sterling silver.
• Kathi Roussel's Earrings fuse together oxidized silver and gold butterfly wings.
• Vintage Belle's Pendant is made of a piece of broken china in the form of a butterfly.
• Kristine Eberhard's Brooch is a Morpho butterfly made of pearly leather that shimmers with movement.
• Melissa Richt's Earrings suspend gold butterfly wings from elegant silver hoops.
• Neile Cooper's Necklace encases the translucent wings of a Cinthaerias Merolina in glass and silver framework.
• Matthew Waldrop's Butterfly gives strength to the fragile creature in forged iron finished with brushed bronze and natural wax. Take a look at his other hand-forged ironwork, which includes all kinds of knobs, handles, bottle openers, and even insects.