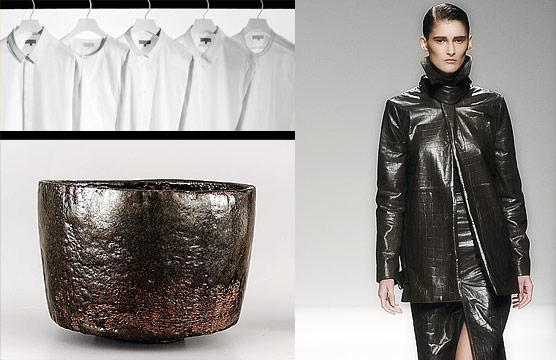 • Hon'ami Koetsu, Black Raku ware tea bowl, early 17th century
• Fashion by Max Mara
• More on minimalist fashion
Seventy years of Zen
got me nowhere at all
my black robe became a shaggy crank,
now I have no business with sacred or profane
just simmer tea for folks 
and hold starvation back. 
Hon'ami Koetsu named his black Raku ware tea bowl Minogame, or Mossy-Tailed Tortoise. In Japanese tradition, the minogame is so old that it grows seaweed on its shell, and becomes a symbol of longevity and good fortune. Koetsu deliberately scraped off the glaze on this tea bowl to emphasize faded beauty. Like the minogame, this tea bowl becomes more valuable and unique with age.