Her slender arms were changed to branches and her hair to leaves. Her feet but now so swift were anchored fast in numb stiff roots, her face and head became the crown of a green tree.
– Ovid, Metamorphoses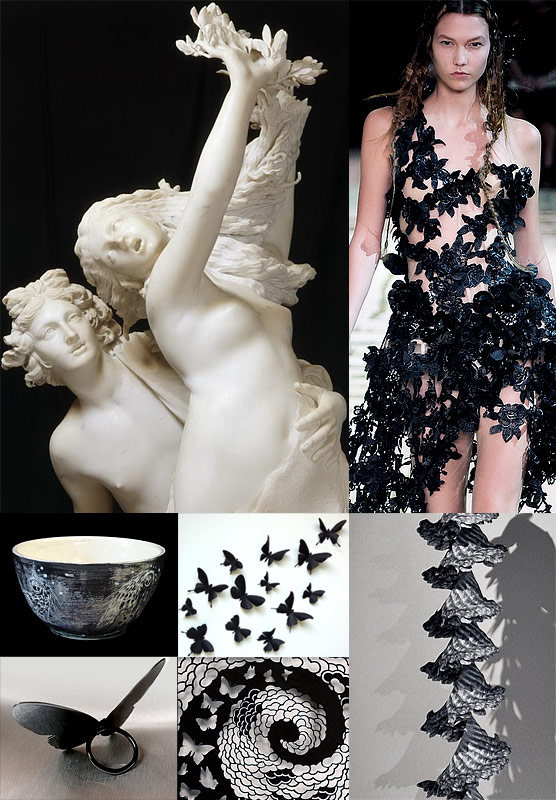 • Bernini transformed sculpture with a story of transformation. He solidified Apollo desperately chasing Daphne as she turns into a tree. Solid marble becomes light and fluid, creating a continuous story as the viewer walks around the figures in motion. Cardinal Scipione Borghese commissioned it for his villa in 1622 where it remains today.
• The Alexander McQueen Spring 2011 Collection includes a dress that covers the body just barely with a scattering of black flowers.
• The surface of Laura's Morph Bowl resembles uneven washes of ink, with drawings of screw heads spinning butterfly wings into motion.
• Adriana's Black Butterfly Ring spreads its sleek wings across your fingers.
• These Wall Butterflies by Bugs Loft create a congregation of 80 three-dimensional pairs of wings in various shapes and sizes.
• Alhad's Paper Art Silhouette is cut from a single sheet of paper into swirling clouds and butterflies.
• Joo Lee Kang's Metamorphosis questions how humans transform and manipulate natural processes with a spiral of of paper-cut wings that looks like a strand of DNA.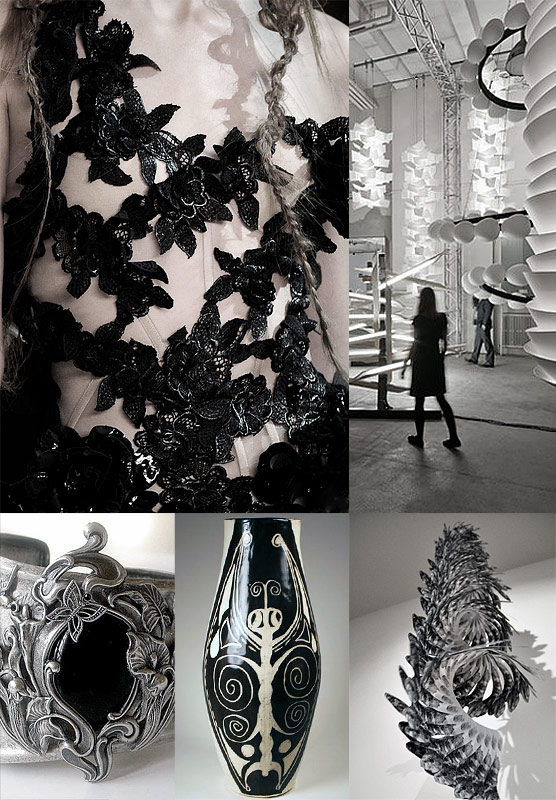 • By repetition and recombination, Foscarini's Metamorphosis Installation transforms lamps into a symphonies of light.
• Martha's Silver Cuff wraps floral motifs, butterflies, and birds around a black onyx gem.
• Stacy's Black and White Vase depicts the stylized shape of a butterfly, wings folded into the curved side.