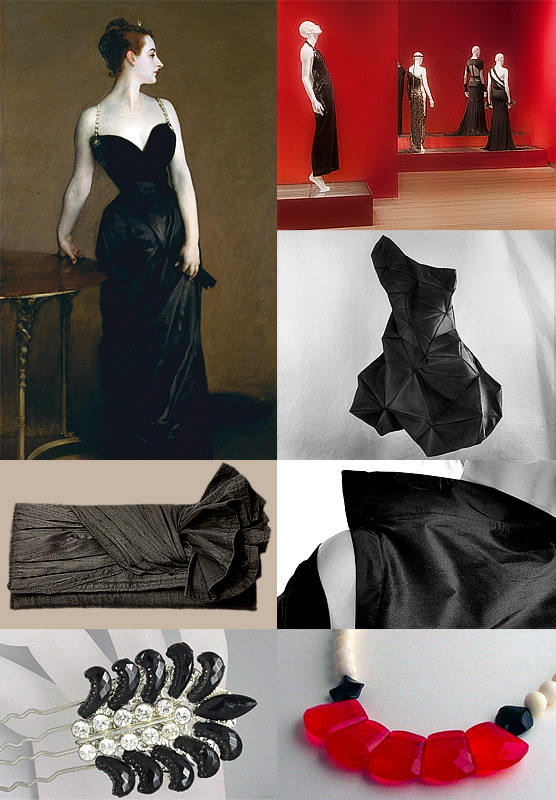 • Who was Madame X and why did her portrait cause such a scandal? Virginie Amélie Avegno Gautreau already had a reputation for parading around Paris in lavender-tinted powder and body-hugging outfits. When John Singer Sargent submitted her portrait to the official Salon of 1884, the crowds and critics thought it was both horrifying and exciting. Was it because the strap on her bodice was falling over her shoulder (a detail that Sargent later re-painted to stand upright)? Yes, but there were plenty of nudes in the exhibition as well. Why would a fully-dressed woman attract so much criticism? She wasn't a nude model or a prostitute, and that was the problem. Her portrait reflects her position in French high society and she isn't coy about it. The theatrical pose and haughty look do not apologize for her elite status. The outraged public was just jealous.
• An exhibit recently opened at the Savannah College of Art and Design displays eighty-one of the best Little Black Dresses, from Chanel to the present.
• L.A. designer Mary Huang's Continuum project is a web app that allows you to design a customized black dress. The app helps you sketch out the silhouette based on your measurements, and the design is then manufactured and shipped to your door.
• Angela and Meghan's Clutch twists black silk into an elegant knot that fans out into a dramatic ruffle.
• Demet's Little Black Dress has an asymmetric collar that adds flair to a classic design.
• This Art Deco Comb by EmmJeyEss Vintage is made from pieces of a 1920s flapper headdress.
• Jen's Necklace combines quartz gemstones, black onyx, and round coral stones for a geometric, Art Deco-inspired contrast.