Thankfully, mad hatters still exist in this world. We've assembled some of their work here. Now, what do mad hatters do when they all get together? We'll answer that tomorrow…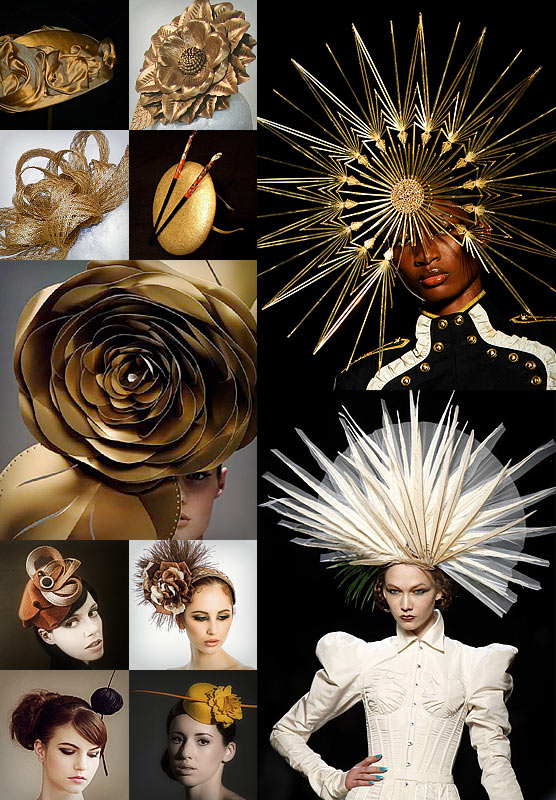 • The Philip Treacy Spring 2013 Collection of hats took the art of millinery as far as it can go. Treacy complemented Michael Jackson's actual outfits with hats that took on a life of their own.
• Zoe Bradley's Rose Hat is one of a diverse range of headpieces she has created for window displays and editorials, often making paper look as luxurious as leather.
• The Jean Paul Gaultier Spring 2010 Collection included extravagant headwear inspired by Aztec warrior armor.
• This Hat by Hatmania is made of golden satin folded into Art Deco style roses.
• Cressida's Leather Fascinator is layered with gold leaves and petals, while her Sinamay Fascinator creates simple and elegant loops.
• Astrella DeVille's Cocktail Hat has two Japanese hair ornaments attached to a glittering gold base.
• Brianna Kenyon's Ombre Hat accents loops of orange red to grey felt with a vintage black button.
• Arturo Rios' Fascinator places a satin rose and feathers on a beaded headband, all in rich shades of copper and beige.
• Maggie Mowbray's Cocktail Hat creates a minimal, striking silhouette with a black ostrich feather quill attached to an origami-folded sinamay ball.
• Rebecca's Pillbox Hat is decorated with yellow felt flowers and a long orange ostrich quill.