In yesterday's post, we mentioned that the mad hatters were going somewhere. All the right ingredients for their tea party are here – crazy tea pots, teas, scones, and treats. Spillage and chaos is unavoidable. Which brings us to – why is the raven like a writing desk?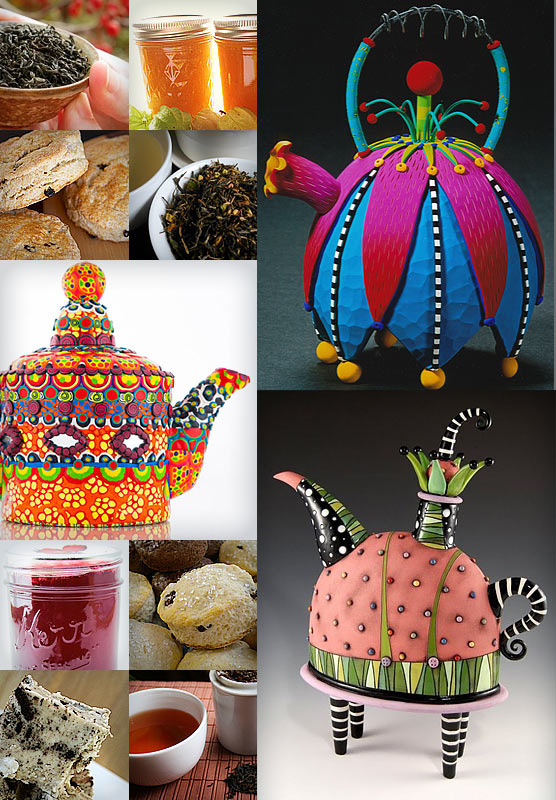 • Rebecca Zimmerman's Polymer Clay Teapots have just the right amount of whimsy to suit the tastes of the Mad Hatter and Dr. Seuss, if they ever decided to sit down to tea together.
• Lydia's Teapot is a psychedelic explosion of colorful clay, decorated with shisha mirrors – the kind used in Indian textiles.
• Verdant Tea's Laoshan Black is a classic black tea – smooth, rich, and creamy, with a hint of dark chocolate.
• Jen's Jam gets its golden glow from organic poha berries and wild persimmons, harvested in Hawaii.
• Brittany Kirkwood's English Scones are made with currants and sweetened with honey.
• The Pistachio Ice Cream Tea by Butiki Teas combines green tea and roasted pistachios, with a creamy flavor as rich as the real thing.
• This Blood Orange Jelly from Nick's Kitchen is made from fruit grown in the sunny Sierra Nevada foothills.
• Ashley Elizabeth's Box of Scones has buttermilk, raisin, and chocolate varieties all made with natural, quality ingredients.
• This Fudge by Smash Candies is the ultimate decadent treat with a dangerous combination of marshmallow cream and crumbled chocolate.
• Butiki Teas' Classic Earl Grey is a blend of black teas infused with bergamot oil for just the right note of citrus.