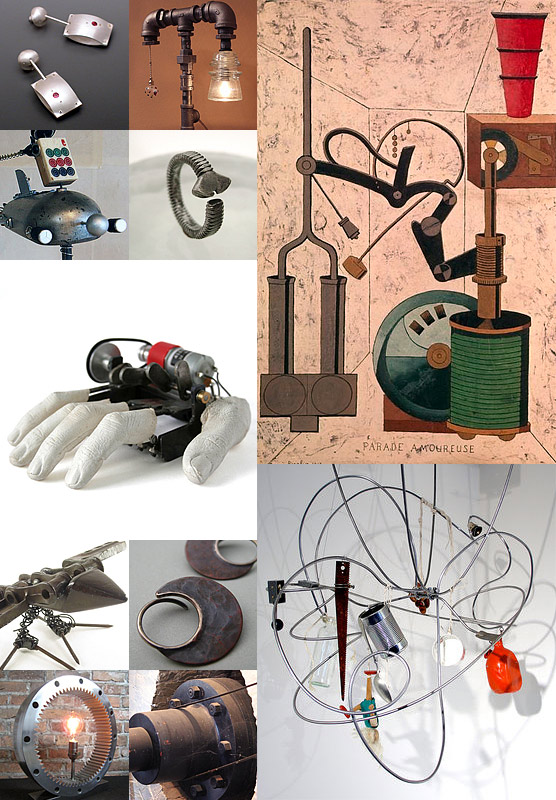 • Francis Picabia's Parade Amoureuse might seem to repeat the familiar theme of man-as-machine, but the painting shocked the Paris art world in 1917, the same year that Duchamp's Fountain first caused a ruckus in the Society of Independent Artists exhibition. (It had to be put behind a curtain, which only heightened public interest.) Picabia's work lies somewhere between Duchamp's outrageous gesture and the traditional still life genre. The title deliberately undermines the detailed depiction of every bolt and screw. While the association between man and machine wasn't new, the directness of Picabia's depiction was a little too close for comfort.
• Laikingland's Cacophony is a doorbell the Dadaists would have been proud of. One ring sets off a tiny hammer that loops around a steel wire, bumping into various found objects to create a random symphony. Among their selection of kinetic curiosities is this Fingers Machine which you can watch in motion here.
• Christine's Earrings encloses small pink tourmalines in pillows of sterling silver.
• Trowe's Lamp uses an industrial black iron pipe for the base and recycled glass for the bulb insulator.
• Josef's Jobot is a robot in his rocket made from an eclectic mix of vinyl records, circuit boards, typewriter parts, and a mahjong tile.
• Shae's Ring is a snake-like piece of flattened steel machine bolt.
• William's Robot Bird is lean and mean, made from pieces of scrap metal.
• Caitlyn's Hoop Earrings are half moon discs of copper, hammered and patinated for a rich texture.
• Rick's Lamp is made from a large steel ring gear circling around the light bulb.
• Chris' Ghost in the Machine is a photograph of the old Folsom Powerhouse in Sacramento, a hydroelectric power station that opened in 1895.