I sometimes wonder if people in the eighteenth century thought Rococo style was bad taste. How many pink frills can you look at before gauging your eyes out? If you were wealthy, the extravagant decorativeness permeated your surroundings, from your clothes to your tea set. Here's a small tribute to eighteenth century frivolity.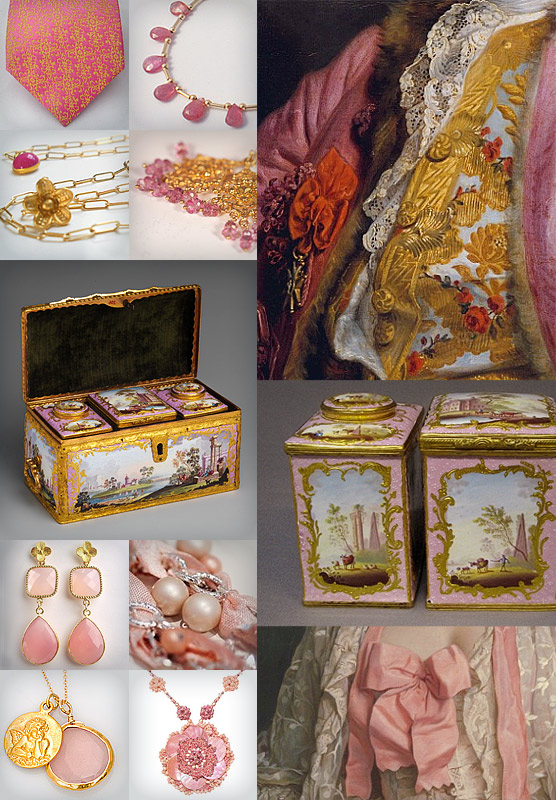 • This Tea Casket with Caddies comes with lock and key, like expensive jewelry, because tea was still a luxury in 1770. By that time, tea was the most popular import from China, for both legal trading and smuggling, and it was much more accessible than it had been in the beginning of the century. Still, you only used a little and added sugar, which would have been in the large canister in the middle of this box.
• Jean-Baptiste Greuze's Portrait of Charles Claude de Flahaut depicts the gatekeeper of artistic patronage for Louis XVI. He was responsible for defining the course of Rococo, and he looked the part. His clothing is a work of art – the gilded floral vest could be a decorative wall panel, and the soft pink of his jacket reflects the blush of Rococo's fragile, frolicking females. For a paler shade of pink, try this portrait of Madame de Saint-Maurice.
• Dan Lee's Necktie has an intricate pink and gold design on silk woven in an old English mill.
• Brigitte Wilson's Necklace has faceted pink sapphires lined up on a gold chain.
• Norah Downey's Necklace is a gold link chain dotted with tiny flowers, pink enamel, and crystal.
• Josette's Earrings are ornate chandeliers made of gold and pink topaz stones.
• Sandra's Earrings are made of bezel set pink chalcedony topped with gold vermeil flowers.
• Alisa Hopper's Necklace gently twists together vintage pink ribbon, pearls, crystals, and a silver chain.
• Delezhen's Necklace pairs a gold angel charm with bezel set pink quartz.
• The Azura Necklace by Ellorias Boutique creates a luscious flower from tiny  beads in all shades of pink.