If I had to choose between the golden vessels or the picture, there is no question, I would choose the picture.
– Johann Wolfgang von Goethe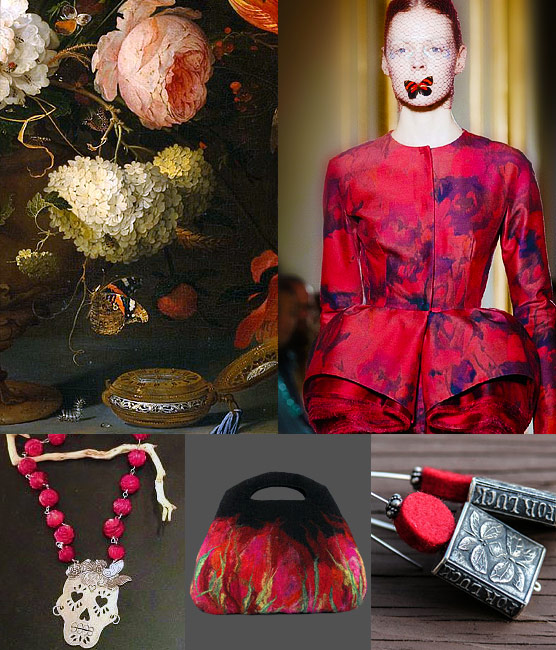 The Dutch had an insatiable appetite for flowers. Paintings depicting expensive flowers and exotic fruits appealed to the merchants who were enjoying a flourishing trade market. The concentration of luxury goods into one still-life suggested that you could have all that. But have you ever gorged on a rich dessert only to regret it later? That's what Goethe hints at. Possessing all this luxury would spoil your appetite. The excess and dramatic lighting pokes fun at how rapacious, almost vulgar, the Dutch upper class had become. Unlike other still-lifes that presented arrangements as pristine, works such as Festoon of Fruit and Flowers by De Heem and Still Life with Flowers and Watch by Mignon indicate signs of life (and decay) with insects. Wealth fluctuates in time, although the paintings survive. Perhaps it's better to look but not touch.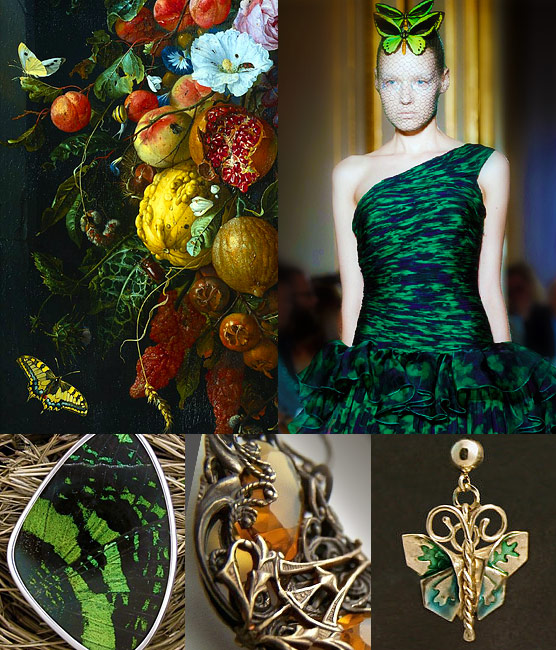 • Giambattista Valli's Fall Couture collection is an inside-out butterfly hunt in the woods. Valli realizes the fantasy of walking through nature and attracting it to the body, with only a net to separate the face from a butterfly kiss.
• Paulette Avila's Mexican Sugar Skull Necklace celebrates the Day of the Dead with hand-carved coral beads and an embellished silver skull.
• Agnieszka's Felted Bag makes a strong impression with saturated reds and fuschias.
• Miss Hattie's Butterfly Luck Earrings feature one-of-a-kind beads with a touch of red felt.
• Michelle's Butterfly Wing Pendant frames an emerald green and black wing in silver.
• Jody's Taking Flight in Topaz wraps an ornate brass structure around two antique glass jewels.
• Kay's Origami Butterfly Earrings have subtle leaf patterns emerging from folds of silver.