Rococo might be the flashy aunt of modern minimalism, but why not go down the ornate route once in a while? We've picked out some contemporary work that follows in the footsteps of Rococo's curves and curls.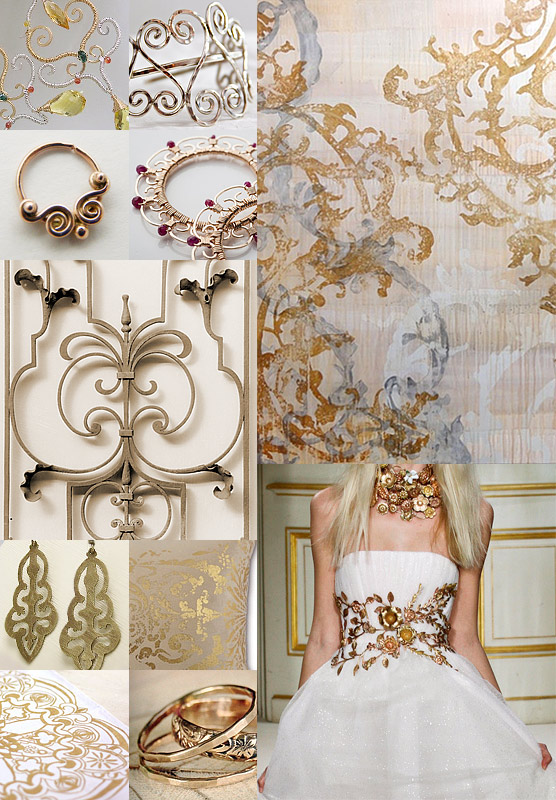 • Melanie Millar's Cocoa Rococo depicts layers of ornamental curves found in eighteenth century ironwork. She makes reference to William Hogarth's Analysis of Beauty, a treatise that seeks to pinpoint the specific qualifications of beauty and good taste. The ideal form was the s-curve, which he traced from architectural details to lofty paintings. If you think this sounds ridiculous, so did Hogarth's contemporaries, who mocked him in a number of satirical prints.  But he did inadvertently define Rococo as a kind of s-curve overload, where every inch of space was reason for ornamental excess.
• The Giambattista Valli Spring 2013 Couture Collection included cast-bronze waist-cinchers and necklaces with floral designs inspired by eighteenth century chandeliers.
• Tracey Pettingill's Earrings are gold and silver curls accented with colorful jewels.
• Casey Corbin's Cuff curves with intricate scrolls in sterling silver.
• April Baynes' Ring has two tiny curls in pink gold.
• Gurmukh Khalsa's Hoops are wrapped with gold wire, scrolls, and small rubies.
• Lisa's Earrings are hand-cut scroll ornaments in oxidized silver.
• Ozgur Karamizrak's Pillow Case has a subtle pattern of burnished gold ornaments.
• Lauren Alison's Dinner Napkins are screen printed with a shimmering gold Moroccan medallion.
• Jennifer Johnson's Ring has an intricate floral pattern and comes with two hammered gold bands.