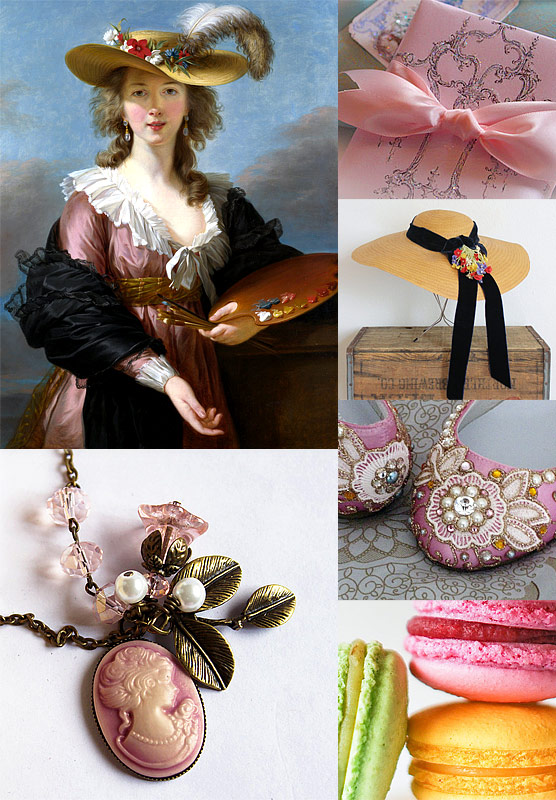 • Louise Élisabeth Vigée Le Brun's Self-portrait in a Straw Hat was her ticket to the Royal Academy, a boy's club of painters who had admitted only one other woman. It solidified her success as one of the most skilled and prolific artists of her day. In a career that spanned more than four decades, she painted 660 portraits of nobility and notable personalities, including Marie Antoinette and Lord Byron. After fleeing France during the Revolution, Le Brun continued to paint the aristocracy in Russia and England. Her portraits have an ease and softness that casts her lofty subjects in a human light. She gave her women a sense of dignity that no male painter could achieve. Her gaze in the Self-Portrait of 1782 is both direct and relaxed, while she holds a palette of fresh paint and a set of brushes. She wrote and published her memoirs, which you can read in their entirety here.
• Paulette's Gift Wrap has a Rococo-inspired chandelier print on a light pink base.
• Coco's Pink Cameo Necklace pairs a cream-and-rose cameo with dark green brass leaves.
• This Italian 1930s Straw Hat by Fanciness Vintage frames a bouquet of millinery flowers with dark navy ribbon.
• Katie's Pink Flats are covered with ornate lace, pearl trim, and swarovski crystals.
• Mo's French Macarons. Need I say more?