Start your Monday on a bright note with some lemons, ranging from the Dutch Golden age to the present.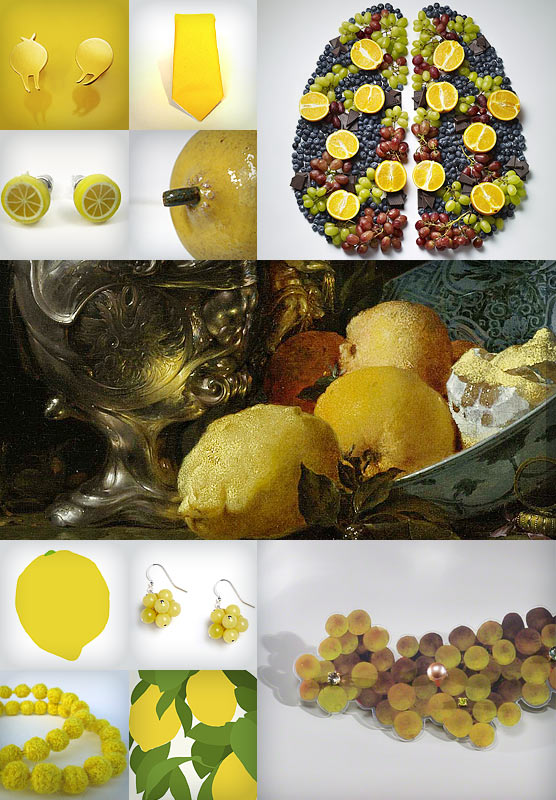 • Willem Kalf's Still Life gives lemons a dramatic entrance. Direct light illuminates their mildly textured surface, reflecting into the ornate silver jug and gold watch. The lemons are casually tipping over a bowl from the Ming dynasty, picked up from distant lands on Dutch trade routes. A twisted gold goblet full of white wine hides in the back. The lemon shows off all of these luxuries for the successful merchants able to acquire them. But, as with every Dutch still life, the painting reigns in such extravagance. Lemon juice was added to wine to reduce its strength. And what about that lemon in the back of the bowl, covered in mold and dried up skin? Its rind appears to have been used for decoration, leaving its juice to waste. A rotting lemon grounds the luxurious surroundings in time, suggesting that all of this wealth will soon go to waste. But the painting won't. It will remain fresh with the splendor of pleasure and money.
• Kyle Bean's Brains are made from a luscious selection of lemons, grapes, blueberries, and dark chocolate. You might as well call yourself a zombie.
• Gijs Bakker's Grape Brooch takes the still lifes of the Dutch Golden age into the present, keeping the same love of luxury. The bunch is a combination of yellow gold, pearls, and diamonds.
• Noémie Pichon's Earrings are whimsical little berries on feet.
• Emy Uhlig's Tie is made from solid yellow cotton sure to brighten up any suit.
• These Studs by Miniblings are lemon halves that look good enough to eat.
• Stephanie Dunkin's Lemons are made from stoneware, so they'll stay fresh in your fruit basket forever.
• Jorey Hurley's Lemon print traces the fruit's uneven edge, and her Meyer Lemons hide behind green foliage.
• Laura Holmes' Earrings dangle clusters of lemon jade gems from sterling silver wires.
• Susanne's Necklace strings together yellow felt beads made from organic wool.