White lace goes to the dark side, developing tougher skin for its intricate patterns.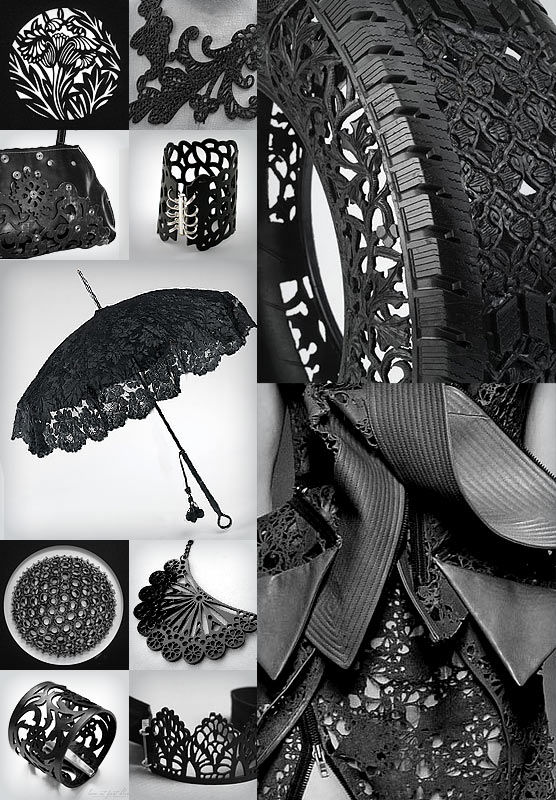 • Wim Delvoye's Pneu is a series of car tires carved with medieval floral patterns, creeping into the grooves and sides, for a synthesis of delicate and tough design.
• This Parasol was made by G. Fox & Co. in Hartford, Connecticut during the late 19th century. The black lace and Japanese-inspired handle are the embodiment of Victorian era elegance.
• The Haider Ackermann Fall 2010 Collection explores the dynamic between fragility and strength with twisted leather that fragments into strips of lace.
• Yair Nesher's Papercut No. 94 is a round window into a black and white garden.
• Rachel Clowes' Necklace is made of eco-felt that has been laser cut into a sprawling swirls.
• Tiina's Clutch is made of black leather with a laser cut panel that resembles a rusty iron gate.
• This Bracelet by Gray's Crafts is laser cut rubber inspired by cellular structures.
• Blaise Barshaw's Sea Skeleton is a paper cut of the radiolarian Aulonia hexagona, floating between glass and a white background.
• Michelle Rose's Necklace is laser cut plastic designed to imitate a Victorian lace collar.
• Sabrina Chin's Bracelet is made of black leather cut in an ornamental design of roses, lace, and filigree elements.
• Kasia Wisniewski's Martine Bracelet frames laser cut acrylic lace with leather ribbon.