Being swarmed by insects was never more stylish.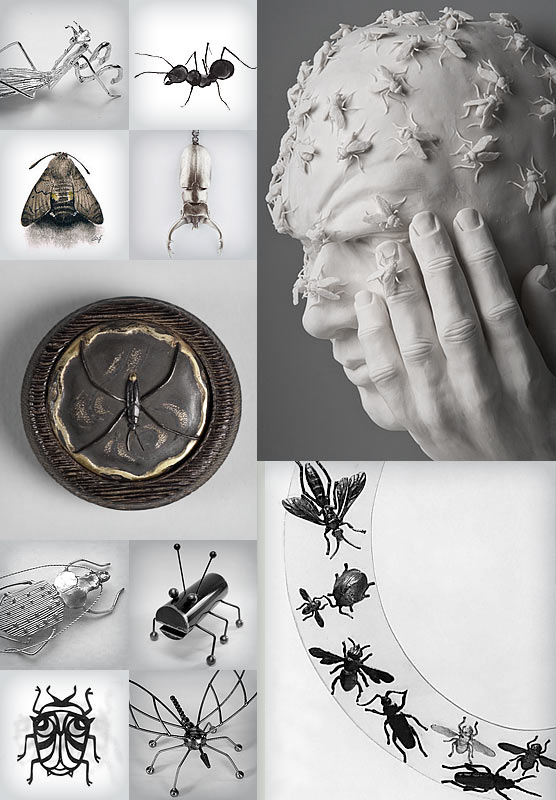 • Kate MacDowell's Buzz looks like one of Ovid's forgotten tales of metamorphoses, the one in which our hero doesn't merge with nature. Her white porcelain sculptures depict an uncomfortable, even destructive interaction between man and nature.
• This Netsuke, dating back to the 19th century, is a small wood container that would have been attached to a man's robe to store small personal belongings.
• Elsa Schiaparelli's Necklace is part of her 1938 Pagan collection inspired by the flora and fauna of Botticelli's paintings. By framing the metal creatures in clear Rhodoid, she turns the rather unpleasant sensation of insects crawling on your skin into a fashion statement.
• This Praying Mantis and Long-Horned Beetle by Elegant Insects are life size pins made of out sterling silver using the lost wax casting method.
• Connie Luebbert's Proverbs 6:6 is a Chinese brush painting that reminds you to "go to the ant, you sluggard; consider its ways and be wise!"
• Matteo's Moth is a detailed watercolor that depicts both sides.
• Mireille Boucher's Pendant is a beetle cast in sterling silver and suspended from a silver cable chain.
• Bruce Gray's Giant Ant is Kafka's dream constructed from acrylic-coated steel. His Bug spreads its steel skeleton wings from a body made of spheres and found objects.
• Madame Tetrallini's Anthropomorphic Entomology is a tiger-like insect hand-cut from black paper and pinned with an original "Karlsbader Insektennadel Nr. 1."