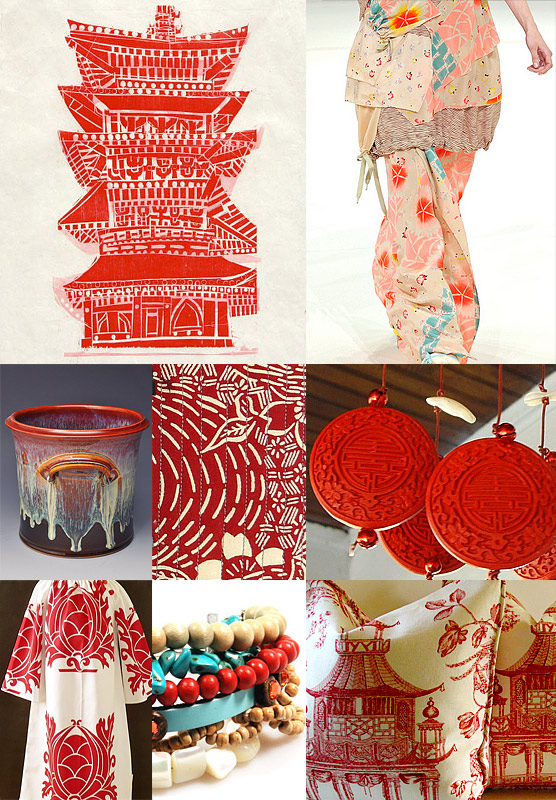 • Naoko Matsubara's woodcut depicting the Daigo-ji Pagoda in Kyoto deconstructs the precise geometry of the sacred structure. She pieces together different angles into uneven layers that appear to move slightly. The print only slightly resembles the real pagoda, and yet it represents our first impressions of such complex architecture, as our eyes move from detail to detail in an attempt to take it all in.
• The Kenzo Spring Summer 2011 Collection loosens the structural formality of the kimono while incorporating prints inspired by Japanese woodcuts.
• Steven's Utensil Holder has a deep red rim and cream glaze spilling over its tenmoku surface.
• Karen's Quilt is an asymmetric composition of stripes and meandering gardens, finished with raw edges.
• These Windchimes by Indigo Objects suspend hand-carved cinnabar disks from strings layered with pearl shells, wood beads, and red bells.
• Christél's Tuxedo Mini Dress has a bold red-and-white print on a relaxed silhouette.
• Alice's Bracelet stacks wooden beads, turquoise chips, shells, and leather for a burst of color and texture.
• Suzanne's Pillows are covered with a Chinoiserie pattern on cream-colored linen.