Everyone has picked up a feather on the beach and studied its unique form and pattern. Perhaps you have several stuffed into a bottle. Here is a collection of collections, a glimpse of how feathers find their way in contemporary watercolors, Katsinas, and the work of American photographer Walker Evans.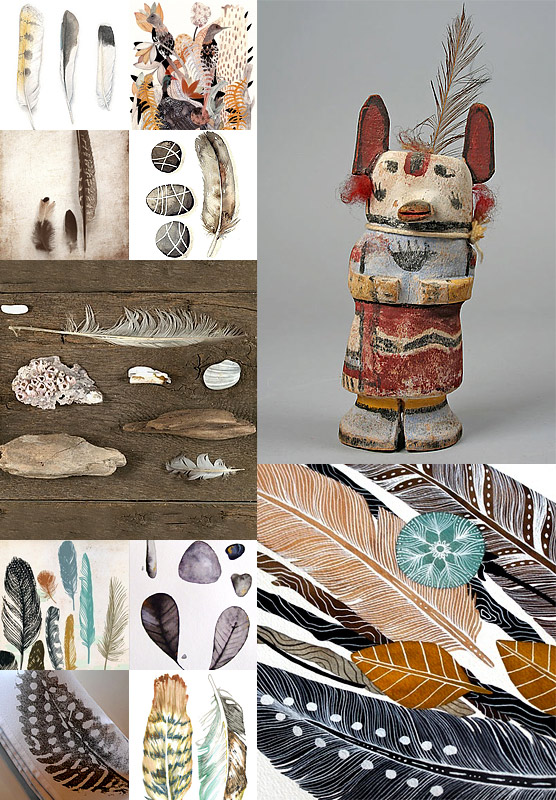 • This Hon Katsina is a doll made by the Hopi. It's one of the many katsinas that personify concepts and objects in the natural world. This particular one is a bear (note the paw prints on the cheeks), and, like every katsina, it comes alive in dance ceremonies throughout the year.
• Walker Evans' Assemblage of various objects found on the beach is not unlike his urban portraits or signage. He was a scavenger who looked for types – of people, things, locations – and he was interested in capturing the similarities and unique characteristics of each collection.
• Marisa Redondo's Gathering Bundle renders feathers, driftwood, leaves, and dandelions in detailed watercolor. Her work brings out the intricate beauty in natural forms, and you can read more about her approach here.
• Matteo Grilli's Feathers depicts five from different species of Australian birds.
• Michelle Morin's The Neighbors is a print of an original watercolor that gathers together birds and fall foliage.
• Caroline Salde's Feathers Photograph complements the texture of the three feathers with a worn, vintage tint.
• Loris World's Feathers and Stones print gives a pale golden glow to the grey and brown composition.
• Danna's Feathers is a print of an ink drawing and is made on eco-friendly sugar cane paper.
• Céline's Feathers & Pebbles combines watercolor, ink, and touches of gold to light up the grey.
• These Napkins by B. Poetic Home have a speckled feather on each one.
• Mandy Besek's Sea Hawk Feathers finds balance between rusty browns, teal, and ocher yellow.