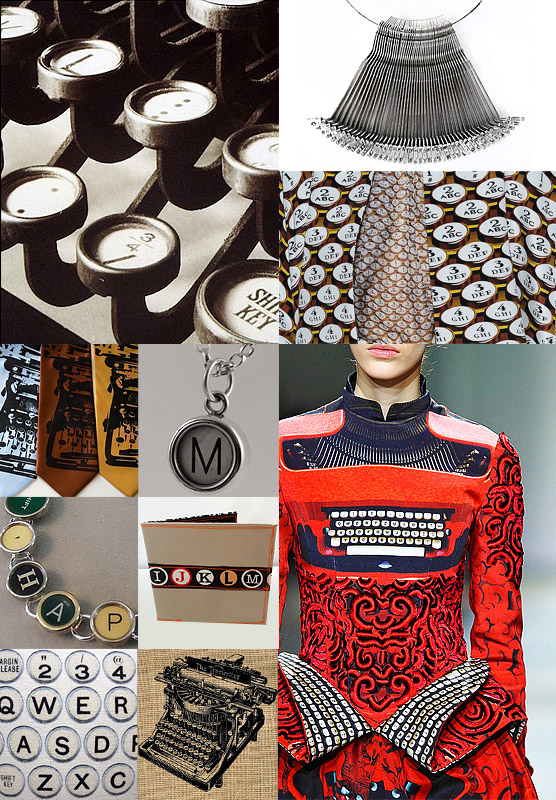 • Ralph Steiner's 1921 photograph of Typewriter Keys hints at why vintage typewriters are fashionable today. The composition focuses on the beauty of the machine itself, its rounded edges and geometric regularity. Steiner recognized that the typewriter was more than useful. It still is a symbol of industrial sleekness and creativity, bringing to mind photographs of famous authors typing the great American novel. One of the typewriter's most noteworthy appearances occurred in Mary Katrantzou's Fall 2012 Collection, which transformed ordinary objects into intricate digital prints. One dress gave the illusion of a red typewriter across the chest, typebars for the collar, and red brocade with keytops on the other side.
• Suzanne's Typewriter Necklace suspends real typebars from a sterling silver tube and has a "back space" keytop hanging in the back. You can even specify what keys you would like for your necklace.
• Bethany's Neckties have silkscreened images of a 1934 Underwood typewriter.
• Julie's Necklace is a letter M key taken from an early 1930s Remington portable typewriter.
• Gail's Bracelet spells out "shift happens" with an assortment of vintage typewriter keys.
• Stacy's Wallet showcases the timeless, graphic appeal of typewriter keys in a cotton print that complements the leather exterior.
• Heather's Pillow fuels your literary dreams with typewriter keys printed on hemp and cotton fabric.
• This Typewriter by Fiber and Water is hand-printed on natural burlap and set in a sleek black frame.