With embellished tights and a bottle of cloying perfume, we walk through a meadow of resin.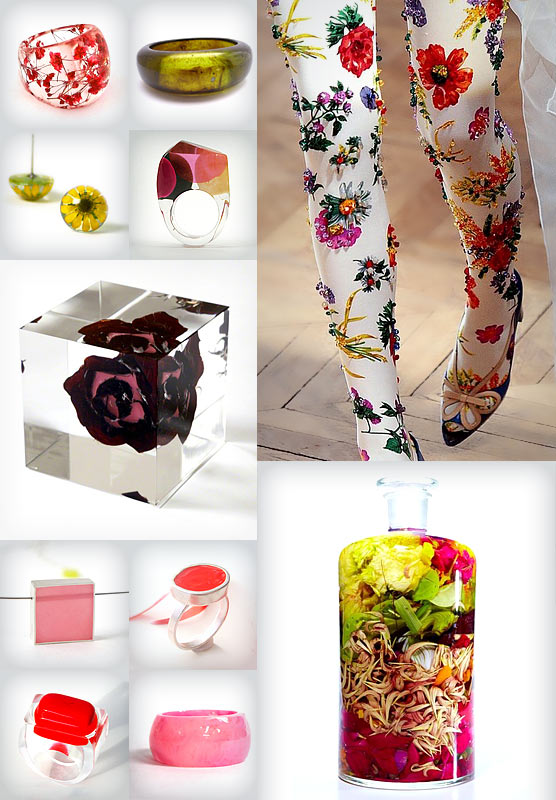 • Ray Geary's Red Rose suspends a silk rose in a cube of clear resin, dissecting and dispersing its petals with surface reflections.
• Makoto Azuma's Bottle Flower series inverts the bonsai tradition and invokes perfume with glass vases stuffed with various plants and petals. Their lusciousness turns into repulsion when you try to imagine the smell of rotting flowers in water.
• These Tights would make a 18th century French aristocrat squeal. Those sequins! If anyone knows their source, do tell.
• Sumner Smith's Ring encases red baby's breath in clear resin.
• Topaz Turtle's Bracelet has tendrils of chocolate brown and tiny bubbles meandering through green resin.
• Sarah's Earrings are tiny dewdrops of clear resin holding real yellow flowers.
• Sylwia's Ring is made of interlacing resin dots in pink and black.
• Lolly Jo Lolli's Necklace frames light pink resin in sterling silver and suspends it from a stainless steel cable.
• Dino Daisy's Ring surrounds vermillion resin with a sterling silver band that can be personalized with words of your choice.
• Tania Padovan's Ring rests a drop of bright red resin in a clear band.
• Melissa's Bracelet is made of bubblegum pink resin – true arm candy.