Autumn leaves just after their vibrant hues start to fade. Sunlight piercing through the crevices of sandstone canyons. Yellow split lentils cooked with curry powder. Sand mixed with the urine of cows fed a diet of mango leaves. Byzantine icons in the twilight of their golden glory. The last third of wild Bashkir honey. The white powder Van Gogh's sunflowers oxidizing over time. One of these definitions of Indian yellow is fake.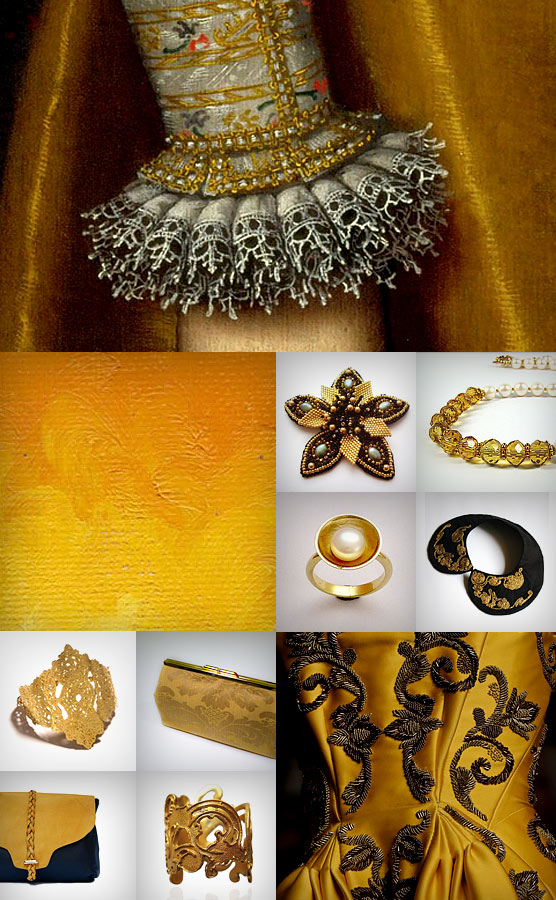 Archduchess Maria Magdalena of Austria by Frans Pourbus the Younger, c.1603; Dress by Zac Posen F/W 2013
Handmade items to buy: (clockwise) Brooch by Kamart; Necklace by Deb Lonergan; Collar by Chez Margot; Ring by Artisanlook; Bracelet by Inbar Shahak; Clutch by Bertina Bags; Ring by Dorota Kos; Clutch by Dikla Levi Harel
In Sophistical Refutations, Aristotle argues that "reasoning and refutation are sometimes real and sometimes not, but appear to be real owing to men's inexperience." In the same way, he relates, yellow-colored objects appear to be gold. The pearls in Vermeer's Woman Holding a Balance absorb the glow of pale light through the window, reflecting off her mustard-colored dress and the Last Judgement, and shed their cool white clothes for a golden mantle. They become even more valuable, surrounded by the coins that determine their exchange value. Against the deep blue folds of heavy fabric, the dots of pigment reflect an alchemic transformation. Vermeer acts like the alchemist, creating objects of greater worth from light and pigment, not only with the pearls but the painting as a whole.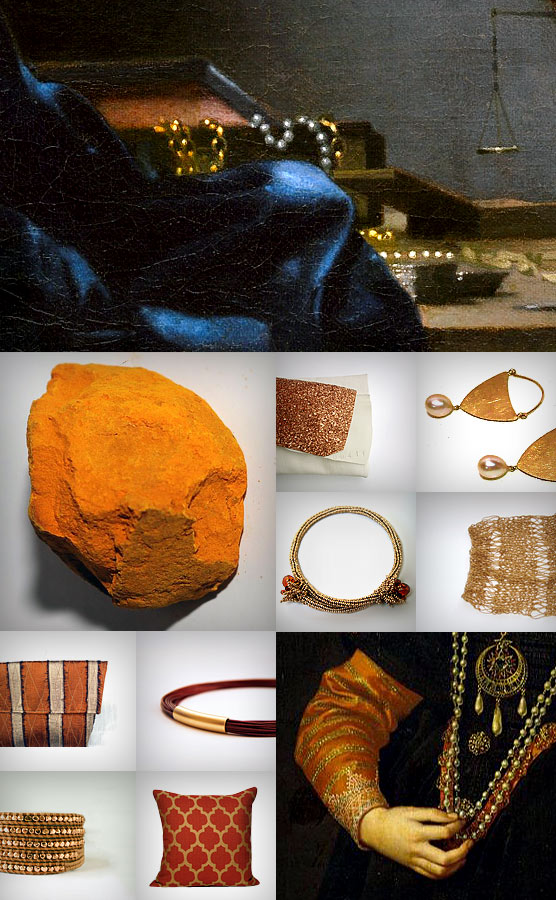 Woman Holding a Balance by Johannes Vermeer; Archduchess Constance, Queen of Poland, c.1603-04
Handmade items to buy: (clockwise) Clutch by Giovanna Giuliani; Earrings by Chiara Bucefari; Shrug by Alvecote Marina; Necklace by Toni; Clutch by Eyespot Designs; Necklace by Sigal Toledo; Pillow by September Home; Bracelet by Talulah Lee
The fake definition of Indian yellow was published in 1886 by the Journal of the Society of Arts in London. Such an expensive and well-used pigment in European painting needed an origin story, so why not invent one about cows and mango leaves. The distance between London and Calcutta was too great to incite any dispute. For Aristotle, viewing things from a distance was how the inexperienced arrived at false conclusions. But in painting, distance reveals more than it obscures, whether you are physically stepping back from a canvas to reconfigure your perception of brushwork, or you are looking with fresh eyes at a wealthy Dutch woman about to weigh her coins.