How often he gave his lips in vain to the deceptive pool, how often, trying to embrace the neck he could see, he plunged his arms into the water, but not catch himself within them!
– Ovid, Metamorphosis Book III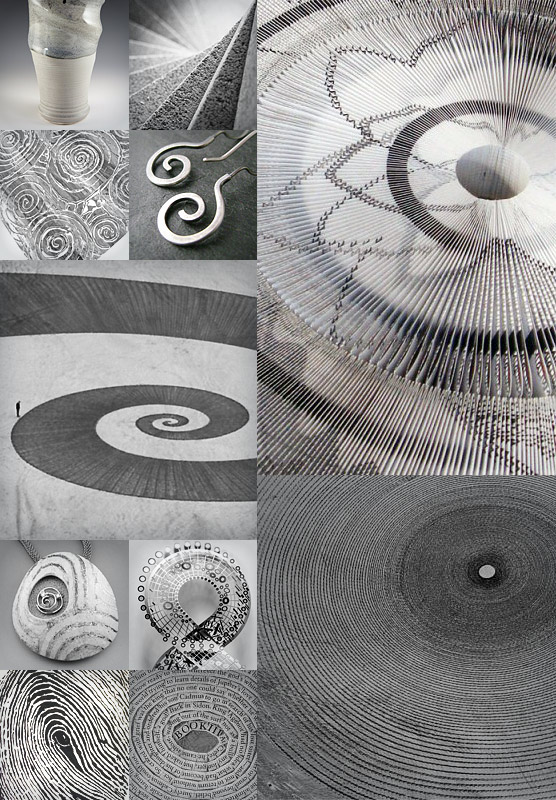 • Mia Wen-Hsuan Liu's Installation Drawings transform museum tickets into circular sculptures, using the ink and punch marks to create a floral motif that wanders across the edges of the paper. She was working at the Guggenheim Museum selling tickets when she had the idea to incorporate them into her own art. The floral designs were inspired by her mother's work as a florist and her wish to have a garden in a city that allows little space for greenery.
• Jim Denevan's Sand Drawings are the warm weather counterpart to Simon Beck's Snow Quilts. Jim draws geometric designs freehand with just a piece of driftwood. His efforts are quickly washed away by the tides.
• This Vase by FJK Pottery is made of hand-thrown porcelain that retains a swirling shape and has a rich surface of pale blue and white glazes.
• Kelly Simpson's Spiral Staircase captures the rough texture of cement fading into white light.
• Rhiana's Impasto Circles resembles rippling water on silvery-grey water.
• Becky's Earrings are simple and elegant spirals made from hammered sterling silver.
• Betsy's Necklace suspends a double spiral of clay and silver from an oxidized silver mesh chain.
• Alison Counsell's Five Rhythms interprets flowing, staccato, chaos, lyrical, and stillness in stainless steel.
• Mauro De Giorgi's Who Are You is a sumi ink painting of a fingerprint that doubles as a questioning gaze.
• Cheryl Sorg's Collage rearranges Book III of Ovid's Metamorphoses in a giant spiral. You can trace three instances of divine revenge and two prophesies.