Before the bland trouser came along, there were tights, worn by both men and women. Taking inspiration from a 17th century portrait, we put together some flamboyant tights that you can wear.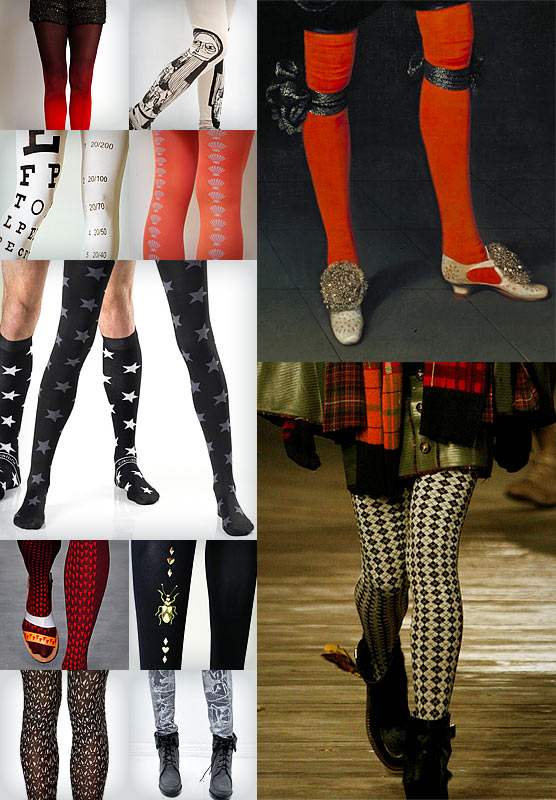 • Daniel Mytens the Elder's Portrait of James Hamilton depicts the Scottish nobleman without the frills and elaborate backgrounds of earlier court portraits. The red hose, with elaborate black garters tied just below the knee, speak for his status. For more on 17th century hosen and stockings, read this in-depth guide.
• The Chanel Pre-Fall 2013 Collection was an all-out Scottish affair held at the Linlithgow Palace, the birthplace of Mary, Queen of Scots. The modern interpretations of kilts, tartans, tweeds, and argyle look just as comfortable in a palace as the winter streets of New York.
• Emilio Cavallini's Star Socks beg the question – can men wear tights today or should the trend stay in the 17th century?
• Dani K.'s Ombre Tights are hand-dyed with a black to fire red gradient.
• Inga and Irena's Ivory Leggings have a quirky print of a girl on the bottom half of the leg, with her legs tucking into your boots. For a more muted look, try their Domino Leggings, printed with a dark grey and silver animal print.
• Morgan's Tights are all silk screened with creative patterns like eye charts and barcodes.
• These Tights by Hose are screen printed with a line of light grey shells on a coral background.
• Dido Yland's Tights have tiny red pines flock printed onto a darker red fabric.
• Lauren's Tights are embellished with golden beetles – perfect for those who want to distinguish their usual black with a little something extra.
• Gal Stern's Knots Tights put a modern twist on tweed fabric with a fragmented black and white print.