Smoking cigars and the boxes they came in used to be an art form. Fortunately, many of these diverse containers are being reinvented for more practical purposes.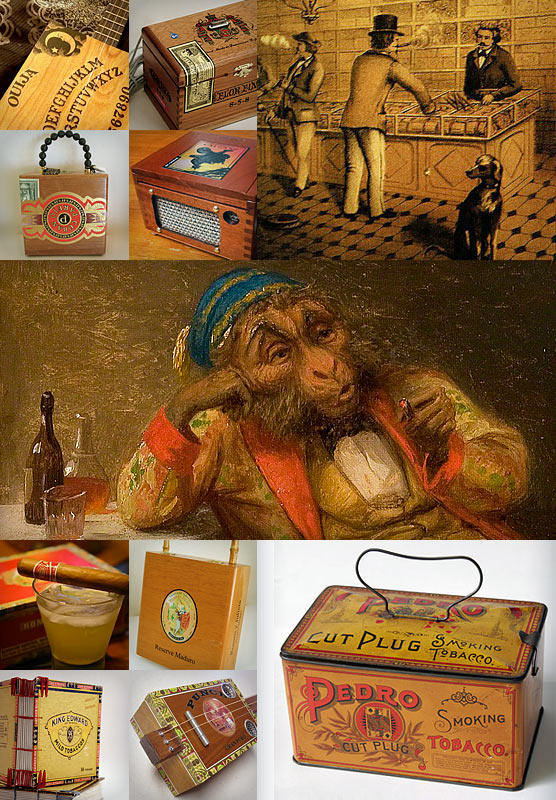 • William Holbrook Beard started out as a portrait painter, but his realistic depictions of animals were so successful that no one remembers him for anything else. His painting A Good Smoke is a good example of how he would place his subjects in a human, often humorous context.
• This Tobacco Tin dates back to the turn of the century and would have been used as a lunch box when the cigars were all smoked.
• This Cigar Box Guitar is made out of an ouija board and is perfect for creating that classic delta blues sound.
• Meredith's Docking Station juxtaposes modern technology with a bit of the old world – a vintage cigar box from the Dominican Republic.
• Anne Reeves' Purse is made out of a vintage Cuban cigar box with a gold and red label.
• Gabe Williams' Stereo fits speakers into a cigar box that you can connect to your iPod, phone, or computer.
• Barbara Temple's photograph of a Box of Cigars stands next to a cocktail and cigar for a composition straight out of the Wild West.
• This Purse attaches a bamboo handle to a vintage cigar box.
• Theresa Marr's Sketchbook has covers made out of a deconstructed King Edward cigar box.
• Kristy's Cigar Box Guitar is customized to your choice of cigar box and other details.